Austintown graduates part of canoe competition

Photo
Neighbors | Submitted .Youngstown State University's STEM team entered their concrete canoe, Tesla, into the Ohio Valley Student Conference of the Concrete Canoe competition on April 4-6.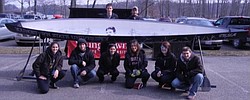 Photo
Neighbors | Submitted .This year's canoe team consists of, from left, (front) Alex Lincoln, Mike Kaldy, Samantha Rovnak (Austintown), Teresa McKinney, captain Taylor Simcox, Bobby Hrusovsky; (back) Joe Reedy (Austintown) and advisor Nathan Knapp. Not pictured is advisor Adam DePizzo.
Joe Reed and Samantha Rovnak, senior mechanical engineering students from Austintown, were part of the Youngstown State University College of STEM team who competed in the Ohio Valley Student Conference of the Concrete Canoe competition April 4-6.
The team's canoe, named "Tesla," placed first amongst area universities and will be competing in the ASCE National Concrete Canoe Competition on June 20-22 at University of Illinois-Urbana-Champaign. This is the second consecutive year, YSU has sent a concrete canoe team to Nationals.
The canoe is judged on four areas: an oral presentation, a technical paper describing the entire project, canoe race results from five races and the overall final product. Youngstown State finished first place overall in the race results, final product and oral presentation.
This year's concrete canoe, steel bridge and an array of other STEM projects will be showcased at STEM Day on April 21 from 2 to 4 p.m. at Moser Hall on YSU's campus.
For additional information on this year's 2013 National Canoe Competition and past competitions, visit www.concretecanoe.org.