Mathews girls softball team unbeaten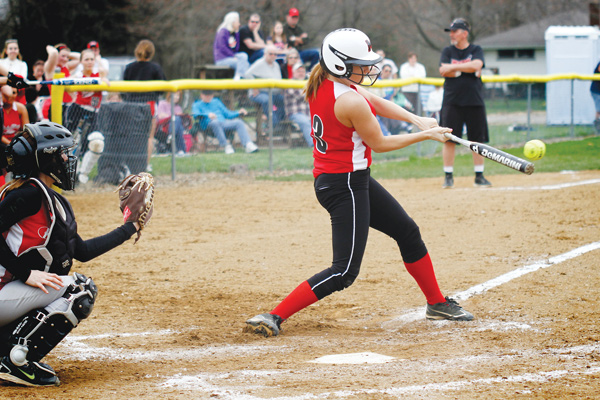 ---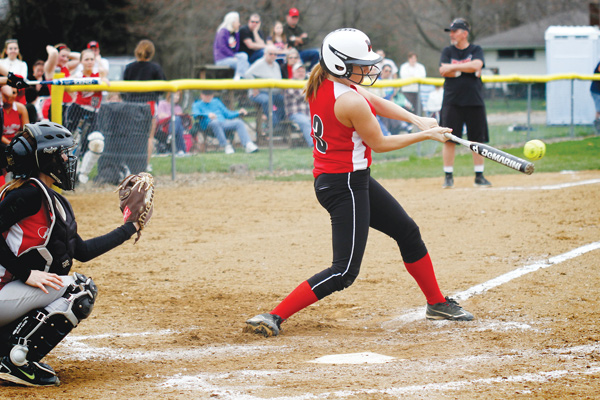 Photo
Mathews' Jessica Marsico (3) connects for a hit during a game against Ledgemont on Wednesday in Vienna. The Mustangs, who were state runners-up in 2012, blanked the Redskins, 13-0, behind Marsico and Cheyenne Eggens, who combined on a five-inning one-hitter.
Mathews' bats coming to life in time for a major challenge
By Tom Williams
VIENNA
Allowing just two runs in eight games, Mathews High sophomore pitcher Cheyenne Eggens would rather talk about offense.
"It's kind of a toss-up right now, but I am really happy about how our bats are coming around," Eggens said after Wednesday's 13-0 victory over Ledgemont.
The Mustangs (8-0, 6-0 Northeastern Athletic Conference) have not been scored upon in league play. The only runs they gave up came in last weekend's 3-2 win over Fort LeBoeuf from Waterford, Pa., near Erie.
"Last year, they were state runners-up in Triple A, the second biggest [division]," Mathews head coach Jim Nicula said.
The Mustangs trailed Fort LeBoeuf 2-0 going to the bottom of the sixth inning.
"We call ourselves the Kardiac Kids because we didn't come back until [late]," Eggens said of their three-run rally.
"Our bats have been coming to life and we've been hitting very well, so I am very proud of our offense," Eggens said.
Her teammates are happy with how well Eggens (8-0) is doing on the mound.
"Our defense has been doing well and Cheyenne has been doing very well," junior first baseman Maddi Grimes said. "But we don't just rely on one person."
This weekend, the Mustangs (last year's Division IV state runners-up) will face top-notch competition at the Wendy's Classic in Ashland.
"This weekend will be huge, we're going to be facing extremely good pitching," Nicula said. "It will be a good test for us to see how we rise up."
Grimes and Eggens are ready.
"That will benefit us a lot when we get to the tournament run," Grimes said. "No matter where we end up, we'll get better from this weekend."
Eggens said, "I'm ready for some hard competition to really test us and show us what we're worth."
Ledgemont's best chance came in the first inning when Maddie Christman hit a one-out single and Raven Caserta drew a walk.
Eggens struck out Morgan Ritts and Morgan Caserta to end the threat.
"Obviously, the walk was my mistake, but I had to shake it off," Eggens said. "And I knew if I couldn't do it myself, my team was there to back me up."
Her method? Eggens said she "zoned in" on retiring the batters.
"Get it in there fast," Eggens said. "I just wanted to get out of there."
Eggens retired the Redskins (2-4, 2-3) in order in the second, third and fourth innings, then gave way to shortstop Jessica Marsico in the fifth inning. Marsico retired the three batters she faced to complete the five-inning one-hitter.
"Our defense, pitching and base-running are spot-on right now," Nicula said. "Our hitting is starting to come around."
The Redskins started Lydia Baldauf on the mound, the slower of their two pitchers.
"That's happened a few times this year, teams trying to get us out of our rhythm," Nicula said. "Today, we adjusted both ways. I'm very happy with how we've been extending our at-bats, going deep into the count."
The Mustangs pounced on the Redskins for seven runs in the first inning. Eggens hit a one-out RBI double to score Tabby Granelly for a 1-0 lead.
With two outs, Grimes smashed a two-run double to deep center field.
"I've been struggling with my batting recently," Grimes said. "You just have to discard what's in the past and start fresh."
Singles by Karli Romesberg, Maddy Nicula and Marsico combined with two Redskin' errors to extend the inning.
Ledgemont coach Katie Woodford, a Leavittsburg resident, used Raven Caserta to relieve Baldauf in the second inning. Caserta pitched two scoreless innings then gave up six runs in the fourth inning.
"We seem to adjust very well," Grimes said of the two pitching styles.