Liberty adds banners to Shady Road bridge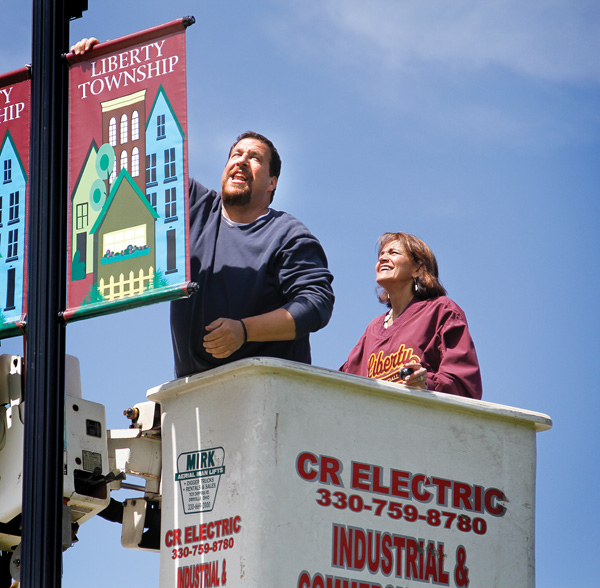 ---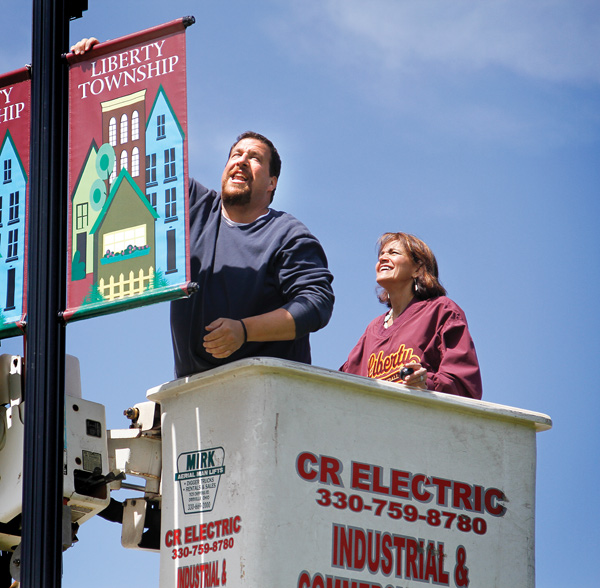 Photo
Top, Liberty Trustee Jason Rubin attaches a banner to a lamppost on Shady Road bridge Wednesday. The banners are a finishing touch on a bridge refurbishment project that began three years ago. Above, Rubin and Trustee Jodi Stoyak hoisted eight banners onto four lampposts throughout the day. Stoyak said the banners are meant to boost community pride as well as school spirit.
SEE ALSO: Lloyd students, teachers, alumni gather to bid farewell to school
By DANNY RESTIVO
LIBERTY
Township officials have added some spirited touches to a bridge enhancement project that was three years in the making.
On Wednesday, trustees hoisted eight new 3-foot banners onto four lampposts that line the Shady Road bridge. Their actions symbolize the final step in a multiyear process to refurbish the bridge.
The Shady Road bridge goes over Interstate 80 and leads into the district's elementary, middle and high schools. The banners are designed to create a source of pride for the township, said trustees.
"This lets everyone know that Liberty is a proud township with a proud school system," said Trustee Jodi Stoyak, who helped paint paw prints on the bridge earlier this year. The paw prints symbolize the leopard, which is the school's mascot.
"Hopefully, it gives the students a little bit of pride in their school as well," Stoyak said.
Wednesday's banner installation was the final step in a project that began in 2009 when the township received a $160,000 grant from the Ohio Department of Transportation to refurbish the bridge. The township then added $64,000 to the project, which included sidewalk expansion.
The township also received a $78,000 grant from the Northern Ohio Public Energy Council, Liberty' energy aggregate, the same year. The grant helped the city install four lampposts along Shady Road with energy-efficient LED lights.
Stoyak said the bridge, which has been painted school colors maroon and gold, looks much better than it used to.
"Before the refurbishment projects there used to be graffiti that covered the bridge," said Stoyak. "It had a real unkempt look to it."
Stoyak said high school art students helped design the banners, which include pictures of the Liberty Bell as well as residential homes.
Retired Art teacher Jane Morris decided which renderings would become banners after students had a contest in one of her classes two years ago. She is certain it will have a positive impact on students and the school.
"It's going to create some school and community pride," said Morris. "We drive over this everyday and it's going to give us something pleasant to look at."