Poland to feature farmers market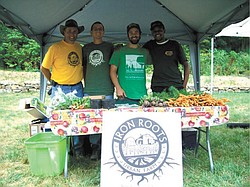 Photo
SPECIAL TO THE VINDICATOR The second annual Poland Village Farmers Market will begin June 14 on the lawn of Poland Village Town Hall. Iron Roots Urban Farm, one of the vendors, will provide produce for the market. Proudly showing a display of their produce are Curtis Moore, left, director of Iron Roots; and employees Rick Price, Matthew Porter and Demetrius Pugh.
Staff report
POLAND
The second annual Poland Village Farmers' Market, at a new location, will begin June 14 and continue each Friday evening from 4 to 8 p.m. through Sept. 20 on the lawn of Poland Village Town Hall, in the center of town.
Items for sale will include fruits and vegetables, fresh cut flowers, honey, preserves, baked goods and other regional products.
Shoppers can dine at Kravitz's Deli in the Poland Village Library or at Wittenauer's and stay for the movie at Yellow Creek Theater.
Iron Roots Farm, part of the Youngstown Neighborhood Development Corp., will participate.
The market is sponsored by Town One Streetscapes, a Poland community group, with the cooperation of the Poland Town Council.
Applications for new and previous vendors are being accepted. Contact Robin Uler at 330-757-4103 or Marcy Black at 330-651-6158.