Feds indict 42 from Warren area on drug, weapons charges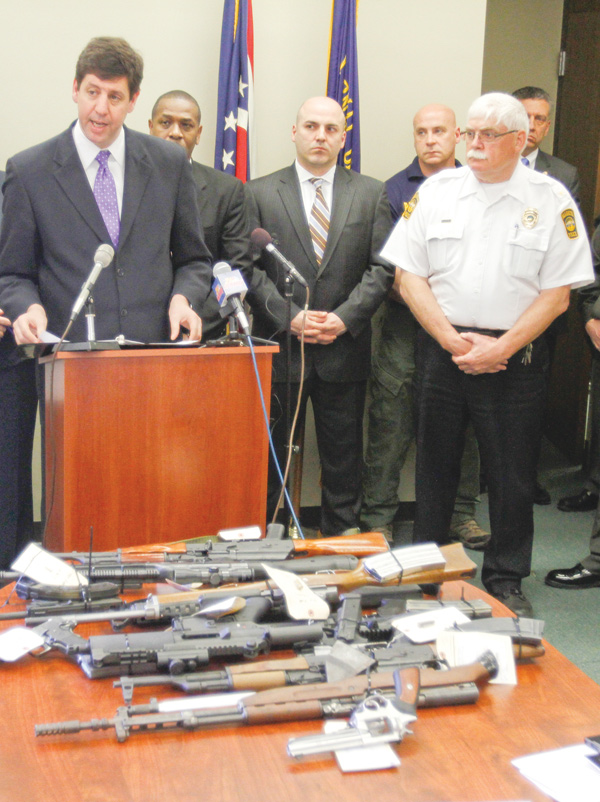 ---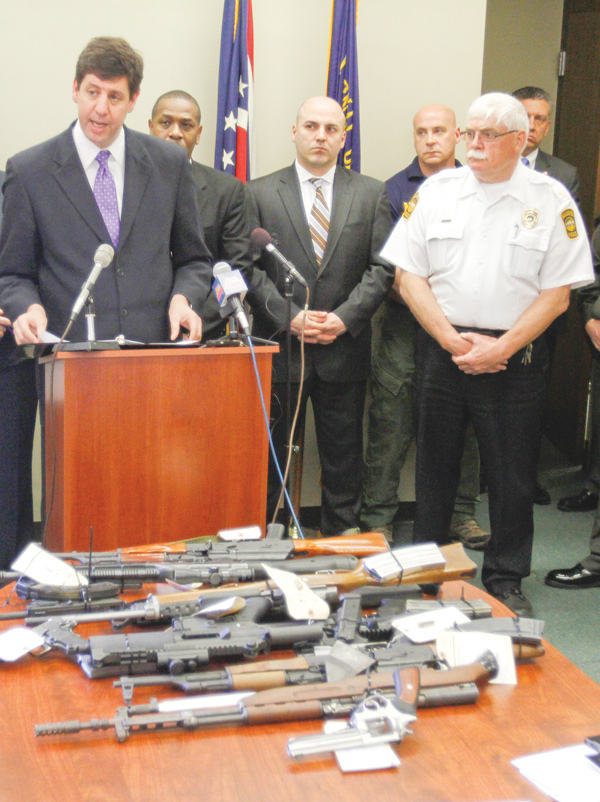 Photo
U.S. Attorney Steven M. Dettelbach reveals the results of an investigation and explains why close to 200 agents fanned out across Warren and arrested 65 people. Officials said they put a major dent in a Detroit-to-Warren drug-and guns operation. At right is Warren Police Chief Tim Bowers.
By ED RUNYAN
runyan@vindy.com
WARREN
Arraignments began Wednesday afternoon in Trumbull County Common Pleas Court for 42 people from the Warren area indicted on drug and weapons charges — many of whom were rounded up earlier in the day in a massive show of force.
Added to those are 55 people indicted in federal courts in a yearlong investigation officials named "Little D'Town" because of the Detroit influence that has gripped Warren in recent years, said Steven M. Dettelbach, U.S. Attorney.
Dettelbach and other federal officials, as well as local authorities, had a news conference at the Warren Police Department to reveal the results of the investigation and explain why close to 200 agents fanned out across the city and arrested 65 people.
Officials spoke near a table containing some of the 155 firearms purchased or seized during the investigation.
Some of the weapons were recovered through a covert operation in which federal agents set up a fake business in the city and made contact with people dealing in illegal weapons.
Federal officials also conducted wiretaps on the phones of many of the individuals now charged.
"These cases have taken an arsenal off the streets of Warren and cut off several pipelines of heroin, cocaine and other illegal drugs," Dettelbach said.
Mayor Doug Franklin called Wednesday "a really a great day in the city of Warren" because of the promise that removal of so many drugs, weapons and criminals will reduce crime and violence in the city.
Police Chief Tim Bowers, who along with Safety-Service Director
Enzo Cantalamessa asked the federal government for its help a year ago, said he believes the effort will lead to a much more peaceful summer.
Robin Shoemaker, Columbus field chief for the federal Bureau of Alcohol, Tobacco, Firearms and Explosives, said the approach used was designed to catch the most dangerous offenders committing crimes that will result in lengthy prison sentences.
Shoemaker said the 55 people charged federally are likely to get prison sentences of 10, 20 or 30 years or more. The location where they are being held and the status of their court hearings were not available Wednesday.
Jeff Orr, commander of the Trumbull Ashtabula Group Law Enforcement Task Force, said it was difficult to carry on such a long-term investigation without being able to make arrests in most cases until now.
"It looked like we were doing nothing," Orr said.
While the investigation was ongoing, the Detroit drug and violence connections in town became apparent with the Nov. 11, 2012, killing of Marco Dukes of Warren behind an apartment house on Elm Road near downtown.
Derrick Peete, 22, and Dale Hatch, 25, both of Detroit are charged in the murder.
A 21-count federal indictment unsealed Wednesday charges Peete with two counts of heroin possession.
The drug indictment gives details of Peete's activities at the time of the Dukes killing, quoting him talking to Anthony Ector Jr., identified by federal officials as one of the biggest of the local drug dealers.
A Nov. 7 conversation was about Peete selling Ector heroin and a 9-mm handgun, according to the documents.
Ector, 29, of Warren, and Valentino Thomas Sr., 41, of Detroit, sold 9.9 grams of heroin to an undercover agent Nov. 9 — two days before the Dukes killing — the documents revealed.
Ector is charged with 21 counts of heroin distribution, and Thomas is charged with three counts of heroin distribution. They are among 21 defendants also charged with conspiracy to possess with intent to distribute heroin, crack cocaine and cocaine.
Of the 42 people charged in Trumbull County Common Pleas Court, 23 were arraigned Wednesday afternoon by Judge Andrew Logan. Some were released after posting as little as $2,500 bond. Others will be required to post as much as $25,000 bond to be released.
In a news release, Ohio Attorney General Mike DeWine said the individuals charged in the investigation "brought more than just drugs and guns into the Youngstown area. Their operation brought more violent crime into our neighborhoods as well."
At about 11:30 a.m., about a dozen agents showed up at 1633 Arthur Drive NW, Warren,
and arrested Don Drokin, 28, on a Trumbull County warrant charging him with marijuana trafficking.
Darryl Caldwell, who lives next door, said he heard three loud booms at the house where Drokin was staying, looked out and saw about 10 police vehicles and a dozen police officers, some with battering rams and shields.
Caldwell said it's upsetting that police believe someone from his neighborhood of nicely manicured lawns and well-kept houses is dealing in drugs.
"I moved out of a neighborhood to get out of this crap," Caldwell said. "I work hard every day. That's not the way it should be."
Caldwell said this is not the first time someone from the street has been charged with drug dealing, however.
"Nobody's safe," he said.