State racing panel to continue talks on Austintown racino design
By Marc Kovac
COLUMBUS
Penn National Relocations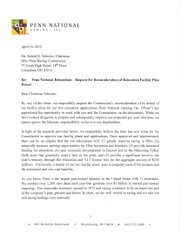 Document
A letter from Penn National Gaming, Inc. to the Ohio State Racing Commission in regards to Penn National relocations.
The state racing commission has agreed to continue discussions with Penn National Gaming about the design of a proposed Austintown racino, an indication that members could be softening their stance on an earlier-announced requirement that the company add more than 600 indoor seats with track views to the project.
As it has in previous meetings with racing officials, Penn again offered to commit to an expansion of the Hollywood Slots at Mahoning Valley Race Course, with future seating if the market calls for it.
But company officials also confirmed that they had ceased construction activities at the Austintown site and hinted that the project could be in jeopardy if racing commission officials push a seating expansion that would require a restart in the facility's design.
"It's frustrating, because every day that goes by, it's another day we're not able to put shovels in the ground and get people employed in the Mahoning Valley," said Eric Schippers, Penn's senior vice president of public affairs, noting that the racing commission's earlier seating requirement would have cost the company millions of dollars and delayed the project by six months or more. "That, to us, makes this project become less than financially viable, given the half a billion dollars we're looking at investing in these markets already, looking at the added competition that we adjust for."
Penn officials have appeared before the racing commission multiple times over the past month and a half, seeking approval to relocate a Columbus-area track to Austintown. The racing commission must sign off on the relocation application before Penn commits to full construction activities at the site.
The company has agreed to pay the state a $75 million relocation fee and $50 million license fee for the Austintown project, plus pump another $125 million into construction of the facility. Penn already owns a 195-acre parcel in Mahoning County, formerly zoned for a proposed Austintown industrial park, and has completed initial site work.
But racing commission members have said repeatedly that the proposed building does not include enough indoor seating to accommodate horse racing fans. Races will take place during the colder months of the year, and patrons likely would not opt to sit in outdoor bleachers to watch the horses run.
"You go in, you sit down in a climate-controlled environment, because it's wintertime, and you have a sandwich," said Commissioner William Koester.
Penn has altered its plans several times, with the most recent version including about 518 indoor seats with track views, an additional 242 indoor seats without direct track views and 650 outdoor bleacher seats.
During Tuesday's meeting, Penn officials offered information on other horse tracks around the country, comparing their indoor seating options with those included in the Austintown plans. In most of the cases cited, the Mahoning Valley Race Course had more such seats than existing tracks.
Underlying much of the debate are plans for video lottery terminals, essentially electronic slot machines overseen by the state lottery commission. Racing commission members have voiced concern that Penn will place more emphasis on the up to 1,500 VLTs planned for Austintown than on the horse track.
"Let's be honest: It's all about VLTs, it's not about horse racing," Koester said.
But Snyder countered, "It's the VLT revenues that are going to supplement the purses. Driving the VLTs drives racing."
And Schippers added, "These are tough times for the racing industry. We think we can help the racing industry by driving VLT revenues to support racing, but we've got to get those machines going if we're going to have a chance of doing that."
Ohio State Racing Commission Chairman Robert Schmitz said members would take the information Penn provided "under advisement" and would schedule another hearing, likely within the next week to 10 days, to continue discussions.