Somber Red Sox rout Indians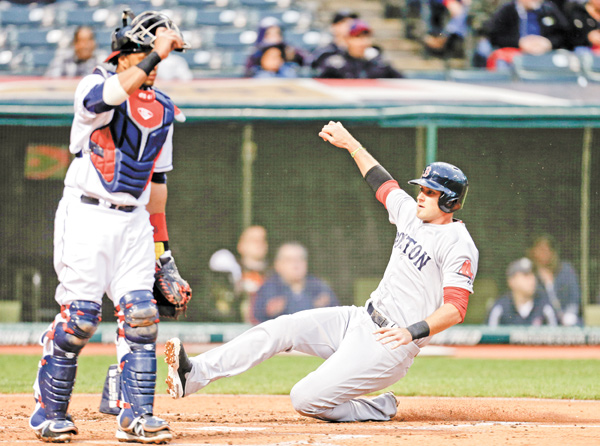 ---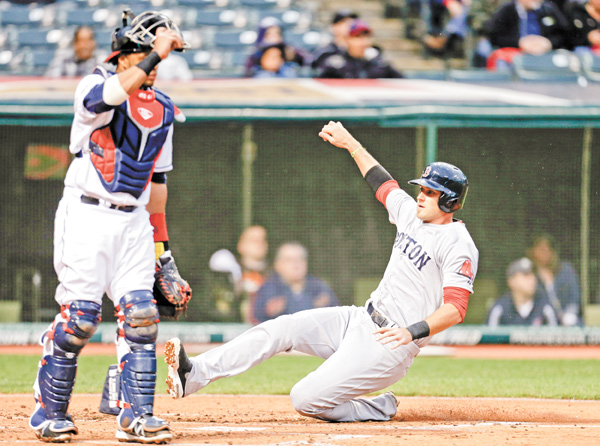 Photo
Boston's Will Middlebrooks slides home against the Cleveland Indians on a sacrifice fly by Pedro Ciriaco in the second inning of a game Tuesday in Cleveland. The Red Sox won, 7-2.
Associated Press
CLEVELAND
Mike Napoli hit a three-run double in Boston's seven-run second inning and the Red Sox, playing with heavy hearts one day after the deadly bombings back home, beat the Cleveland Indians 7-2 on Tuesday night.
Boston's players were already en route to Cleveland when they learned of the explosions near the Boston Marathon's finish line that killed three and injured more than 170. The Red Sox were hoping to bring some relief to those affected by the tragedy, and they may have while winning their fourth straight.
The series opener was also Indians manager Terry Francona's first game against the Red Sox, the team he led to two World Series titles during eight seasons in Boston.
Helped by five walks, the Red Sox scored seven runs in the second off Ubaldo Jimenez (0-2) and gave Felix Doubront (1-0) all the support he needed.
Staked to the big lead, Doubront allowed two runs and four hits in five innings. He struck out seven.
Monday's tragic events in Boston brought a somber tone to Francona's reunion as well as to the Red Sox. Before the game, in a clubhouse devoid of its usual pregame sound and bustle, several players spoke of how a memorable Patriots Day win over Tampa Bay turned horrific.
"It's weird," pitcher Jon Lester said. "You see these things, it's like movies. For it to hit home like this, to be on that sidewalk plenty of times, eaten at those restaurants plenty of times, it hits right at home. It's a scary deal."
With the American flag clinging to the pole and at half-staff, the Red Sox and Indians, wearing black armbands, solemnly took the field for a moment of silence before the national anthem to honor those who lost their lives in the Boston bombings. As players placed their caps over their hearts, closed their eyes and bowed their heads, Boston's "B" logo appeared on the left-field scoreboard with "STRONG" written underneath.
And then before the first pitch, Fenway Park music standard "Sweet Caroline" filled the ballpark, another nod to Boston and moving forward.
Francona was hoping the game could bring Red Sox Nation — and everyone affected by the tragedy — some comfort.
"If it helps anybody at all, that would be terrific," he said. "I don't know how you quantify what happened. It's just unfair. I just hope maybe this game does help some people."