---
Wednesday, April 17, 2013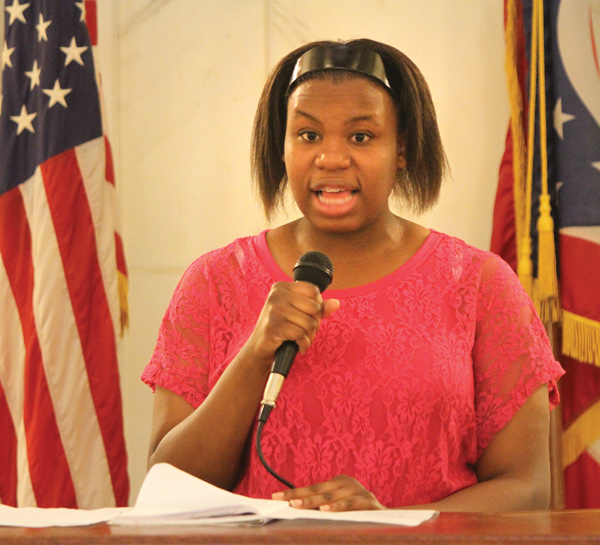 Photo
Micah Smith, a 2013 Sojourn to the Past student participant, gives introductory remarks explaining why Dr. Martin Luther King wrote his famous Letter from Birmingham Jail after his arrest in a 1963 civil-rights demonstration. The letter was read Tuesday in a Mahoning County Courthouse observance of its 50th anniversary.
YOUNGSTOWN
Local ministers, rabbis, community leaders, students and civil-rights advocates gathered in the Mahoning County Courthouse rotunda to observe the 50th anniversary of a document that articulated the principles of the American nonviolent, civil- disobedience movement against injustice.
The document, written by Dr. Martin Luther King Jr., is known as the Letter from Birmingham Jail.
More than 20 participants in Tuesday's courthouse event took turns, each reading a portion of the letter aloud.
The event coincided with other readings of the letter around the nation and the world.
If Dr. King were alive today, "He would speak to the challenges of urban education. He would speak to powerful immigration reform," said the Rev. Lewis Macklin, pastor of Holy Trinity Missionary Baptist Church. "We have an opportunity today, this day, to go and give life and energy to that very reading," he said of the letter and its current significance.
Dr. King's letter sends an exhortation to today's Americans to be "not conformists, but transformists," the Rev. Mr. Macklin said.
Dr. King's letter "is just as meaningful today as it was 50 years ago," said
Penny Wells, director of Mahoning Valley Sojourn to the Past, an educational program that takes local youths on trips to historical sites from the civil-rights movement.
"My challenge to all of us here today is: Where might you show your courage? Where might you sacrifice? Where might you take a stand? Martin Luther King Jr. certainly did," Wells told the audience.
After being arrested and jailed in a 1963 march against the racial- segregation policies of Birmingham and its downtown merchants, Dr. King wrote the letter to his fellow clergy on margins of newspaper, on scraps of writing paper and on a pad his lawyers eventually were allowed to give him.
Dr. King responded in the letter to a statement by eight white Alabama ministers that called Dr. King an outside troublemaker and said the anti-segregation campaign should be waged in the courts and not in street demonstrations.
"Injustice anywhere is a threat to justice everywhere," Dr. King wrote. "Anyone who lives inside the United States can never be considered an outsider," he added.
Concerning the ministers' statement that the civil- rights demonstration was illegal, Dr. King wrote: "One has a moral responsibility to disobey unjust laws."
Saying blacks had waited long enough for civil rights, Dr. King wrote: "Justice too-long delayed is justice denied."
In the letter, Dr. King expressed his concern that failure to pursue social justice non-violently could lead to violence due to "pent up resentments and latent frustrations."