South Range pitcher no-hits JM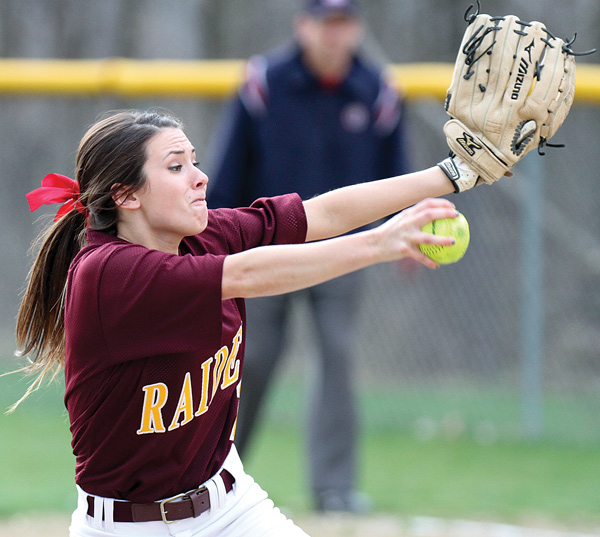 ---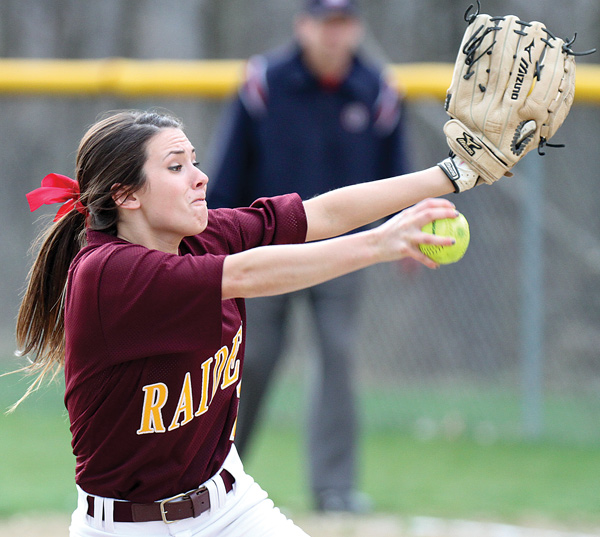 Photo
South Range pitcher Carly DeRose works against Jackson-Milton on Tuesday. DeRose threw her second no-hitter of the season in the Raiders' 8-0 victory over the Bluejays. DeRose improved her record to 6-0. South Range is 8-1 (6-0 ITCL Tier One).
By Doug Chapin
North Jackson
South Range softball pitcher Carly DeRose duplicated — and then some — her performance from the previous evening.
DeRose threw her second no-hitter of the season Tuesday night, allowing just one walk and striking out 13 as the Raiders defeated Jackson-Milton for the second straight night, this time by an 8-0 score. DeRose allowed three hits Monday in a 6-1 victory.
"We went with Carly again tonight because they only had three hits last night," South Range coach Don Feren said. "She no-hit them tonight so it didn't hurt us. Normally we don't go back-to-back ever. We have two pitchers [who] are perfectly capable of throwing with anybody."
DeRose, now 6-0 on the season, said facing the same team in two straight games could go either way.
"That can help both of us. It can help me because I know what their hitters are like and it can help them because they've seen me before," she said. "Tonight it worked in my favor and I'm thankful for that.
"We were expecting them to play small ball and bunt the ball a lot. I worked on my rise ball and my screwball up and in and those were both working for me."
The game was much closer than the final score, it was 2-0 after six innings. Paije Kiraly (7-3) pitched effectively for Jackson-Milton, striking out six and stranding eight runners through the first six innings.
"Normally we play a lot better on the second night (of back-to-back games)," Feren said. "We had some blown opportunities tonight throughout the game. We had runners in scoring position and we didn't capitalize. In the seventh inning we came through and capitalized on the opportunities."
Morgan Renforth drove in a run in the first on a sacrifice fly and Kara Taylor doubled home the Raiders second run in the fourth. South Range (8-1, 6-0 ITCL Tier One) then got its bunt-and-run attack going and scored six in the top of the seventh.
The Bluejays (7-3, 4-2) were on a roll before running into the Raiders the last two days.
"We're in the upper tier this year which is a little tougher competition for us," J-M coach Kelly Snowden said. "We're a Division IV school, so we're playing all schools out of our division but the girls are coming along nicely.
"We want to get back to where we were last year when we were 25-4 and made it to the regional. These kinds of games are going to sharpen you up for later. I don't know that there are a whole lot of teams that have four left-handed batters that can bunt and slap. That is an excellent team."
South Range is even better when it is playing solid defense as it was Tuesday night.
"I believe 100-percent in my defense. When the ball is hit I know someone has my back," said DeRose who is headed to Slippery Rock to pitch. "They all work very hard and I'm glad to have the other eight people behind me.
"It's my second (no-hitter) this year. I'm pretty glad about it, but it's more about winning the game than for me personally to get a no-hitter. I'm just glad we came out on top."
"She's probably throwing the best I've seen in her four years," Feren said. "She pitched for us as a freshman in the regional final and I think right now she is pitching 100 times better.
"She trusts her defense. They put the ball in play tonight and her defense backed her up. Defensively, if we play like that and play like we have been we'll be all right."
Renforth and Darrian Yanek led the Raiders with a double and a single each. Kara Taylor doubled and drove in two runs. She also snuffed out Jackson-Milton's best chance for a hit by snagging Kiraly's well-hit line drive to left in the fourth.