Published: Wed, April 17, 2013 @ 12:00 a.m.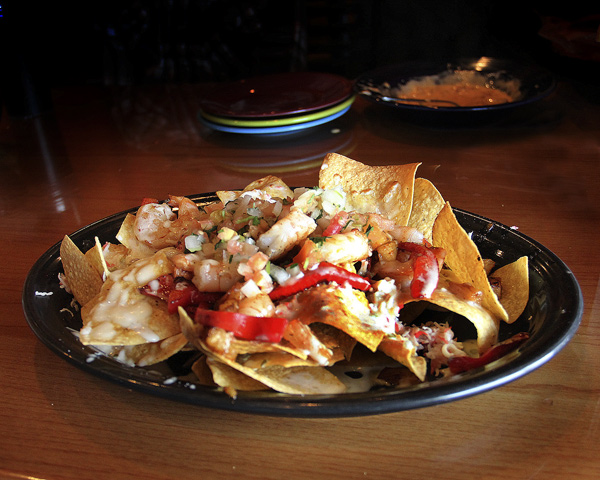 Photo
Seafood nachos at Don Victor's Authentic Mexican Restaurant & Cantina
If You Go...
Where: Don Victor's Authentic Mexican Restaurant & Cantina
Address: 4626 Mahoning Ave., Austintown
Phone: 330-799-6500
Hours: Monday-Thursday, 11 a.m. to 10 p.m.; Friday-Saturday, 11 a.m. to 11 p.m.; Sunday, 11 a.m. to 8 p.m.
Website:
By REBECCA NIEMINEN SLOAN
Sometimes the smallest detail can make the difference between a dish that is tasty and a dish that is downright dynamite.
One unexpected ingredient in the seafood nachos at Don Victor's Authentic Mexican Restaurant & Cantina in Austintown produces that kind of wow factor.
Layers of warm, crisp tortilla chips are generously slathered with creamy queso cheese sauce, pico de gallo, slivers of crab meat, sumptuous whole shrimp and red bell-pepper slices — oh, so delicious! But the ingredient that pushes the yum meter over the top is the tidbits of pineapple.
The sweet-tangy fruit coupled with creamy cheese sauce, delectable shrimp and mildly spicy pico de gallo makes this dish unforgettable.
Of course, this is a Mexican restaurant, not a seafood restaurant, and although the seafood nachos scored a perfect 10 in my book, they weren't the only highlight of my meal at this welcoming establishment with clean, spacious rooms painted in all the fiery-copper hues of a Southwestern sunset.
Seated at a quiet table by the window, I was lucky enough to sample a variety of favorites from the expansive menu, which includes about 60 dishes in addition to appetizers and desserts.
I started with Queso Fundido, an appetizer of flame cheese, Mexican sausage and flour tortillas. It was rich and satisfying without being too salty or spicy.
Next came Fajitas de la Casa, a sizzling skillet of chicken, steak, shrimp, bell peppers, onions and tomatoes accompanied by rice, refried beans, guacamole, flour tortillas, lettuce and sour cream.
The steaming ingredients were nicely done with subtly seasoned chunks of beef and chicken, succulent shrimp and firm but tender onions that were perfectly caramelized.
Both the chicken and beef burritos were hearty, mild and satisfying, flanked with refried beans, crisp lettuce, tomatoes, rice and a dollop of sour cream.
Although by this time I was feeling stuffed to the gills, my sweet tooth wasn't going to let me depart without digging into some dessert.
Don Victor's menu features four tempting desserts, including fried ice cream and flan Napolitano, but Jay Beschara, general manager and chef, decided to provide a sneak peek to a special new treat.
The dish (yet unnamed) features a generous scoop of butter pecan ice cream laden with deep-fried pretzel pieces dipped in cinnamon and sugar and drizzled with chocolate sauce. Whole pecans crown the sublime blend of sweet and salty.
Beschara said it will be added to the menu very soon and is one of several menu changes in the works.
"We will be cutting about 10 items from the menu and adding some Tex-Mex barbecue-style items such as hamburgers," he said. "We want to offer something a little different for people who may not normally want to eat Mexican food."
From 3 to 6 p.m. Sunday through Thursday, customers receive $1 off drinks, and all appetizers are half price.
Other regular specials include 99-cent tacos on Mondays and one free kid's meal on Wednesdays with the purchase of two adult meals.
The restaurant also offers vegetarian dishes and gluten-free dishes.
"We try to offer a variety of things to please a variety of people, but our focus is, of course, authentic Mexican cuisine," Jay said.
Indeed it is, and if you're in search of a first-rate Mexican meal, Don Victor's is bound to please your taste buds.
For a complete look at the menu, visit www.donvictors.com.