Muntean, Struthers outlast Niles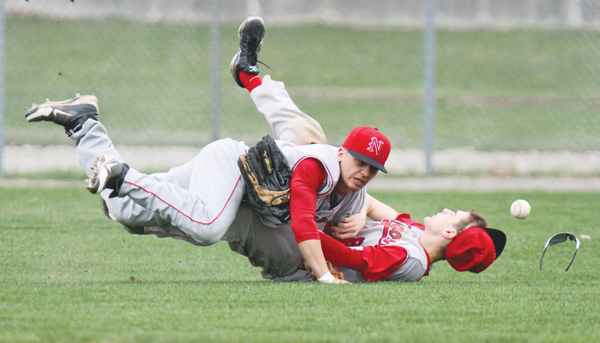 ---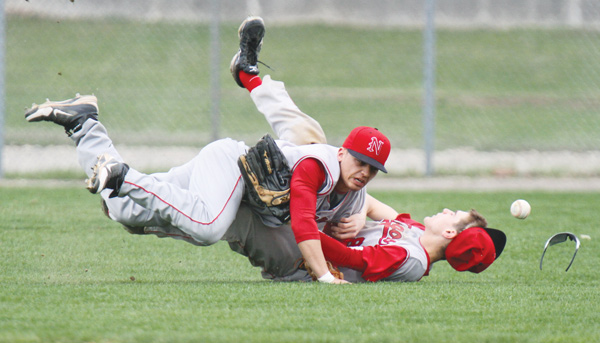 Photo
Niles outfielders Ian Hileman, left, and Justin Lopes collide after trying to catch a fly ball that was hit by Struthers' Gary Muntean in the first inning of a game Monday at Cene Park in Struthers.
By Steve Wilaj
STRUTHERS
Apparently, a full seven innings of baseball isn't enough for the Struthers Wildcats. And head coach Mike Donatelli isn't complaining.
Struthers defeated Niles, 2-1, in eight innings on Monday at Cene Park. The Wildcats are now 3-0 in extra innings this season.
"For some reason we must like playing a little extra innings — we can't get enough baseball," Donatelli said. "But hey, I'll play as many as we need to as long as we keep winning."
A big reason for the Wildcats' continued perfection in extras was starting pitcher Gary Muntean. Like Donatelli, he isn't sure why Struthers (6-3) has a knack for extra baseball.
"I could not tell you," he said.
But what Muntean can tell you was that he had everything working on the mound against the Red Dragons (4-4). He allowed one run on five hits in his complete-game victory.
"I just used my infield and outfield. They led me to victory," Muntean said. "I love those guys. They have my back all the time."
Muntean threw just 90 pitches.
"He did a heck of a job and pitched a great game," Donatelli said. "He hit his spots when he needed to and came through when he needed to. Our defense made some big plays behind him and we got just enough hits today."
Struthers had nine hits. The last came when Muntean singled to lead off the bottom of the eighth inning. He had three singles on the day.
"I was just seeing the ball good and relaxing," Muntean said. "In that last at-bat, I just went by myself being a two-strike hitter. That's what gets me going and gets me hits."
Muntean advanced to third when Niles pitcher Tyler Wiery overthrew first base on Colton Rudzik's sacrifice attempt and scored the winning run on Marcus Donnadio's second sacrifice fly of the game.
It was an unfortunate loss for Wiery, who was nearly as good as Muntean. He went 71/3 innings, allowing two runs while striking out six.
"This was his third start of the year and he's been lights out every time," Niles coach Mike Guarnieri said. "Unfortunately we just weren't clean with the ball there and that's what happens."
Wiery also paced the Red Dragons at the plate, going 2 for 3 with a sacrifice fly. Other than Weiry, Guarnieri wasn't pleased with his team's offensive performance.
"We're not squaring balls right now or hitting anything hard," he said.
Niles threatened in the top of the seventh, as Wiery's two-out triple put the go-ahead run 90 feet away. But that's as close as the Red Dragons got.
"Tip your hat to [Muntean]," Guarnieri said. "He controlled us offensively. We had a couple opportunities and didn't capitalize."
Dan DiLoreto added three hits for Struthers.
"We have a good group of kids and we preach to them we're never out of it no matter what the score is," Donatelli said. "We just keep fighting."