Separate trial sought for mother of boy, 14, who was beaten to death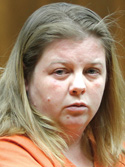 Photo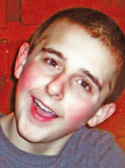 Photo
YOUNGSTOWN
Shain Widdersheim's lawyer is asking that she be tried separately from her co-defendant and former boyfriend, Zaryl Bush, in the January beating death of her 14-year-old son, Teddy Foltz.
Meanwhile, the Mahoning County coroner's report, which ruled Foltz's death a homicide due to blunt-force head injuries, sets forth inconsistent versions of events concerning Foltz, which Widdersheim allegedly presented to medical personnel and the coroner's office.
Judge R. Scott Krichbaum of Mahoning County Common Pleas Court will preside over a pretrial hearing for Bush, 43, and Widdersheim, 32, both of Creed Street, Struthers, at 8:30 a.m. today. Judge Krichbaum is scheduled to preside over their joint jury trial beginning May 20.
Bush and Widdersheim are charged in the same indictment, but under different counts. Both defendants have pleaded innocent and are jailed without bond.
"The allegations against Zaryl Bush are incredibly heinous, and defendant Shain Widdersheim will be unfairly prejudiced by her association with such an individual," according to the motion filed Monday by Widdersheim's lawyer, Douglas A. King.
"The government has joined these defendants to gain the benefit of cumulating evidence of the misdeeds of one against the other," King wrote.
The motion also asks that Widdersheim be tried separately on each count she is charged with. "It will be impossible for the jury to separately consider the alleged misdeeds related to different dates and different victims," King wrote.
In a separate motion, King asks for dismissal of the four child-endangering counts against Widdersheim because he said they are nonspecific and allege violations of nonexistent sections of state law.
Bush is charged with murdering and feloniously assaulting Foltz on Jan. 21; four counts of child endangering pertaining to Foltz; one count each of endangering Foltz's 10-year-old twin brothers; two counts of intimidating a witness related to one of the twins; and one count of tampering with evidence.
Widdersheim is charged with manslaughter and obstructing justice in Foltz's death, two counts of child endangering pertaining to Foltz, and one count each of child endangering pertaining to the twins. Widdersheim is the mother of all three boys.
The charges in the indictment cover the period from December 2011 to late January 2013.
Widdersheim took Foltz to Akron Children's Hospital Mahoning Valley on Jan. 21 with head injuries so severe that he was immediately transferred to St. Elizabeth Health Center in Youngstown, where he died Jan. 26.
Police arrested and charged Bush on Jan. 29 and Widdersheim the following day.
A bill of particulars filed by the prosecution said Foltz was abused and tortured by being repeatedly punched, having his head slammed against a wall, being forced to stand outside until frostbitten, being made to walk on hot coals, and getting hit with pool sticks and bars of soap.
Widdersheim told nurses at St. Elizabeth that Foltz's head injury occurred when he exited the shower, suffered a seizure and fell to the floor and that the frostbite on his feet was due to his playing outdoors.
Widdersheim told a staff member at the physical therapy office where Foltz was being treated for his frostbite in January 2013 that Foltz had dropped a snowblower on his feet and didn't tell her for several days.
The coroner's report says Widdersheim told a coroner's investigator that Foltz hadn't yet entered the shower, that the floor wasn't wet, that nobody had showered there on Jan. 21, and that Foltz's head repeatedly hit the wooden floor while he was seizing.
The investigator reported Detective Jeff Lewis of the Struthers Police Department told her on Jan. 24 that he had received phone calls from Foltz's friends and family saying his head injury was not an accident.
The callers said Foltz had been forced to work outside in harsh weather and verbally abused, and that teachers had observed marks on Foltz, which Foltz said his younger brothers inflicted on him. Foltz and his brothers were withdrawn for home schooling in August 2012, Lewis reported.
When the investigator went with police to Widdersheim's residence, neighbors reported seeing a coatless Foltz shoveling snow at 6 a.m. and Foltz being forced in the summer to cut grass with scissors. Neighbors reported they often heard screaming inside Widdersheim's house.
Foltz had made several previous visits to Akron Children's Hospital. One was on March 12, 2009, for lower back pain that reportedly began with a fall down steps a year earlier and was aggravated by a fall on ice six weeks before the visit.
On Aug. 18, 2010, he was given six sutures and sent home after suffering a cut near his left eye, reportedly caused the previous evening by a drywall knife.
On Aug. 2, 2012, Foltz was given five sutures and sent home after suffering a cut on the left side of his forehead, reportedly when he was hit by a storm door while carrying wood into the house.