Priest's avocation helps a friend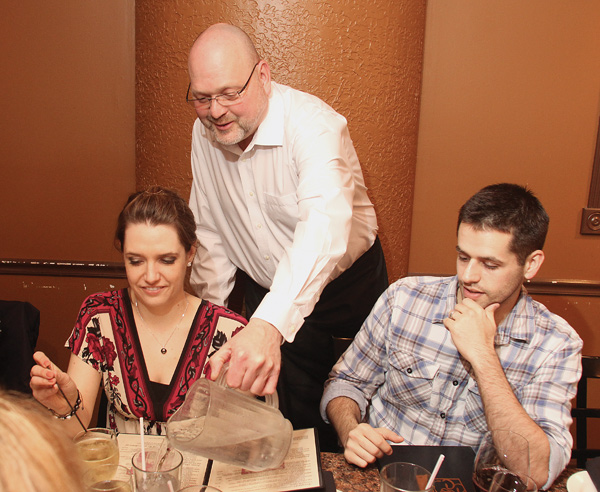 ---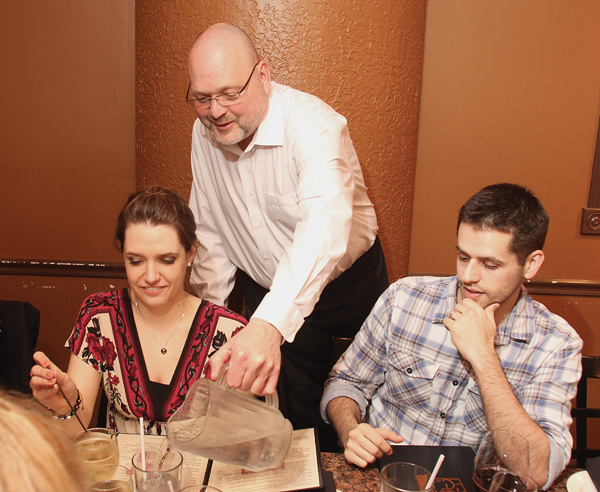 Photo
"Fred," also known as the Rev. Ed Noga, refills water glasses for customers during the dinner rush at Cafe Cimmento in downtown Youngstown before the Carrie Underwood concert last Thursday at the Covelli Centre. The pastor of St. Patrick Church in Youngstown does busboy duties to help out the restaurant owner, who is a church member.
FAITHFUL SERVICE
The Rev. Ed Noga is "Fred" the bus boy at Cafe Cimmento in Youngstown.
Priest's avocation helps a friend
Valley priest's avocation helps a friend
By LINDA M. LINONIS
youngstown
Sometimes when you see someone out of his or her usual role or setting, it's a challenge to place them or remember their name.
Valley residents dining at Cafe Cimmento, 120 E. Boardman St., before big concerts at the Covelli Centre might have that experience when they see "Fred."
The busboy looks like the Rev. Ed Noga.
Is it?
Has the pastor of St. Patrick Church on Oak Hill Avenue given up his priestly vocation for a gig in the restaurant business?
No, not exactly.
Father Noga's stint as a busboy at the downtown restaurant happens only on very busy nights when there's a major attraction at Covelli — such as the Carrie Underwood concert last week.
For him, the restaurant work is an avocation, a diversion away from his role as a priest. He adopted the name "Fred" from Fr., an abbreviation for Father, and his first name.
Cafe Cimmento's owner, George Mager, is a member of St. Patrick, and that's how Father Noga came to be Fred.
"It's just a way to help out a parishioner," Father Noga said. "It's something so different from what I do normally."
Mager said, "He's my priest, but he's a good friend, too."
Father Noga said he can't explain it, but some people think he and Mager are brothers. "I don't see any resemblance other than we're both Slovak," Father Noga said.
Mager, who said he is half Italian and half Slovak, also said they don't look alike. They both have beards and wear glasses.
Father Noga said he has "generally been under the radar" as far as people noticing him. He wears the standard staff dress of a white shirt and dark trousers; he sometimes dresses it up with cuff links that were his father's.
His busboy duties are to clear tables and keep water glasses filled. Father Noga said he views the work as a "study of human nature." He even has used his observations as material for sermons.
What's impressed him is how people are willing to help out a stranger and reflect a "random act of kindness."
He recalled a young couple who drove from Cleveland to see Kid Rock at Covelli and had dinner at Cimmento's. "They'd never been to Youngstown but had heard different things," Father Noga said. The man had bought the concert tickets online and had forgotten them. He asked the restaurant staff where he might have public access to computers, such as the library, so he could access the tickets.
Father Noga said he was about to take the couple to the church office to use a computer when a restaurant staff member offered her laptop. The couple got the tickets and went to the concert. "They told us they wouldn't forget how Youngstowners had been so nice," Father Noga said.
He said instances such as that create good will for the city.
Father Noga said he's happy to see people patronize locally owned restaurants downtown. He said Valley restaurants offer a slice of Youngstown flavor and good food. "The tuna steak at Cimmento's is to die for," he said.
Mager said "Fred" fits in with the staff. "They look forward to him being here," he said of Father Noga. "He's personable."
As for serving customers, Mager said, "He's excellent, and I know the customers appreciate it. I appreciate the extra help."
Father Noga credits his Slovak mother with his cleanup skills and attention to detail.