Covelli balances volleyball and a spot on boys tennis team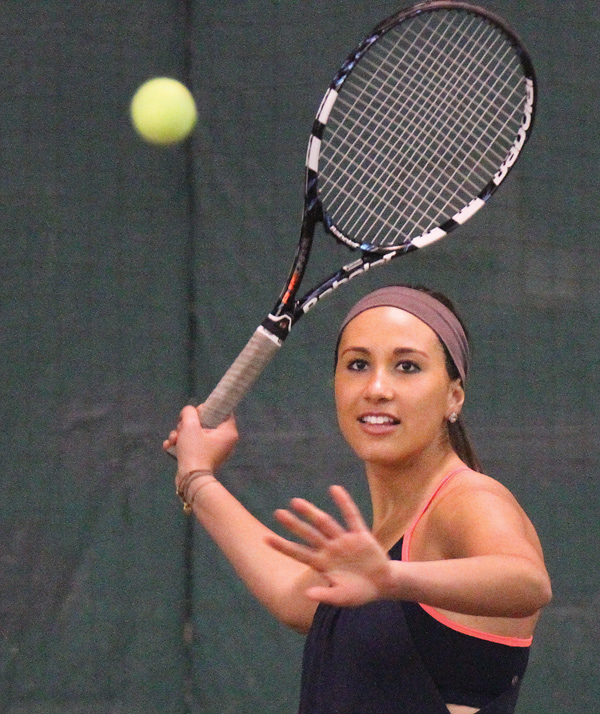 ---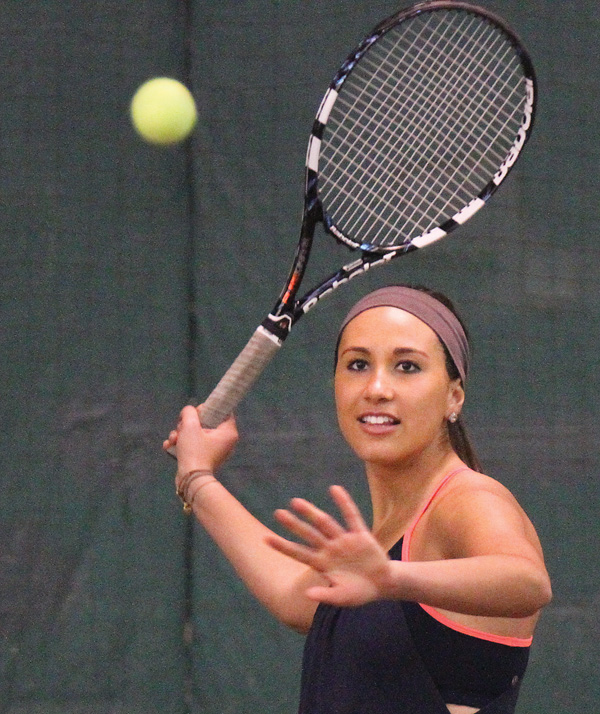 Photo
Warren JFK tennis player Danielle Covelli eyes a shot against Salem during a match on Friday at the Salem Racquet Club. Covelli is a four-year starter and two-time captain on the Eagles' boys tennis team.
By Steve Ruman
WARREN
There are a few things worth noting about Danielle Covelli, a senior at Warren John F. Kennedy High and a member of the Eagles' boys tennis team.
First and foremost, Covelli isn't out to prove a point or make any statements. She is simply finding a way to participate in a sport she loves.
Secondly, even if she wanted to, Covelli doesn't have to prove anything to anyone.
"From day one of her freshman year, she has earned a spot on this team," Kennedy coach Joe Marino said. "Her play speaks for itself. By now, she has earned respect and a solid reputation from our opponents.
"People see her on the court, and they don't think twice."
In fact, Covelli is a four-year starter and a two-year captain for the Eagles. Primarily a doubles player on one of the area's strongest teams, she is on pace to earn her fourth varsity letter.
"We're an extremely deep team, and Danielle is among our top tier of players," Marino said. "Every now and then you see a girl on a boys team, and she is usually the last on the depth chart. That's not the case here. Danielle is a major contributor."
Covelli's decision to try out for the boys team originated out of dumb luck. Prior to her freshmen year, she was involved in a skiing accident which resulted in a broken arm. A nearly year-long recovery process prevented her from being able to participate in girls tennis, which is a fall sport.
"Before the injury, I was going to actually try and play both volleyball and girls tennis, even though the seasons kind of overlap," Covelli said. "I couldn't do either during the fall of my ninth grade year. But by spring, I was healthy.
"Tennis has always been my first love. I just didn't want to miss a season of playing, so joining the boys team that spring seemed to be a logical move."
Covelli was an instant success, both on and off the court. Marino said that Covelli's talent, determination and competitive nature gave her the edge she needed to compete against her male counterparts. Her personality gave her the upper hand when it came time to win over the skeptics.
"The thing about Danielle is that she is the most humble, respectful and polite person you will ever meet," Marino said. "We've never had a single player who resented her for being on the team. It's been just the opposite. She is highly respected by every teammate and opponent.
"She's just a class act. She will go out of her way to help the younger players, or do whatever she feels necessary to better our team. We'll end practice, and she'll be the last one on the court picking up balls."
Marino noted that physically, Covelli's biggest asset is her strength in driving the ball.
"She has an incredibly powerful serve," Marino said. "Most girls would get overpowered by the top boys player on any given team. She can hang with most opponents."
Following a successful freshman season, Covelli chose to continue to play on the boys team, allowing her to focus on volleyball in the fall. The decision "was made easy, because everyone from teammates to opponents have been totally supportive."
Still, Marino wonders what could have been had Covelli participated in girls tennis throughout her high school career.
"We have a brutal schedule, we play some of the top talent in Northeast Ohio," Marino said. "Danielle hangs with the best boys out there. You can only wonder how far she could have gone against other girls."
Danielle is the daughter of Sam and Caryn Covelli. Upon graduation, she will attend Ohio State University, where she will major in either business or English.