McDonald struggles early in Pirates' loss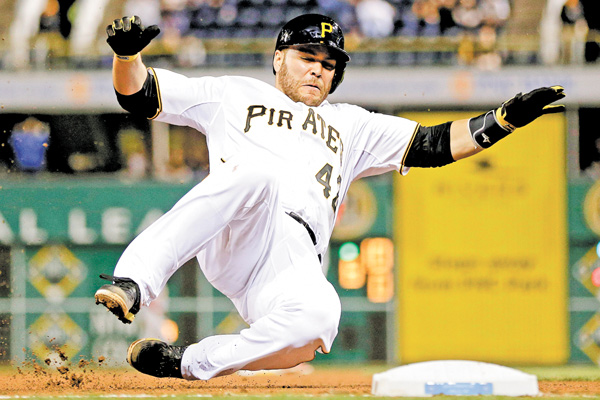 ---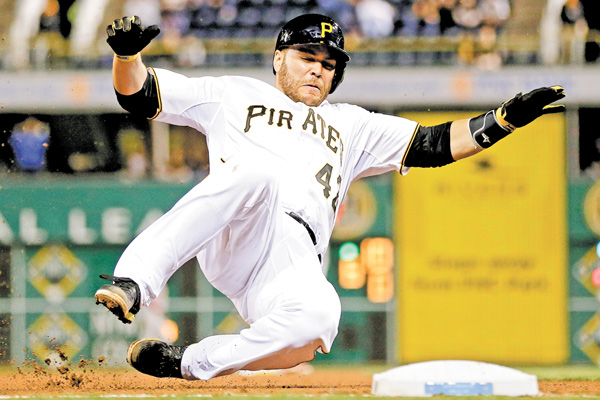 Photo
Pittsburgh Pirates' Russell Martin slides into third base during a game against the St. Louis Cardinals in Pittsburgh on Monday.
Associated Press
PITTSBURGH
Jon Jay and Matt Holliday each had two hits and two RBIs as the St. Louis Cardinals jumped on the Pittsburgh Pirates early in a 10-6 victory Monday night.
Allen Craig doubled and drove in three runs for the Cardinals, who knocked around James McDonald (1-2) with a seven-run second inning. McDonald gave up eight runs, three earned, and walked two in 11/3 innings, the shortest start of his career.
Lance Lynn (2-0) labored through five innings to get the win. Lynn allowed four runs, walking three and striking out four.
Starling Marte had three hits and Neil Walker homered for the Pirates, who had their three-game winning streak snapped.
McDonald began the season hoping to recapture the form he showed in the first half of 2012, when he nearly made the All-Star team. He pitched well in his first start and then overcame a shaky first inning in Arizona last week — when he allowed four runs before getting three outs — to pick up the win.
The right-hander again struggled to get out of the first inning, allowing St. Louis to grab an early 1-0 lead, an advantage that could have been much larger if the Cardinals hadn't run themselves into unnecessary trouble.
The Pirates bounced back to tie it in the bottom half on a run-scoring single by Garrett Jones, only this time McDonald was unable to collect himself on a night when his velocity and command seemed off. Normally his fastball hovers in the 93-94 mph range but only one of his 46 pitches reached 92 mph, and the Cardinals pounced.
Pete Kozma led off the second with a ground-rule double, and things kept getting worse for the Pirates. Jay smacked a two-run double and a rare throwing error by shortstop Clint Barmes allowed the Cardinals to extend the inning. St. Louis didn't let the miscue go to waste, adding five more runs — including a two-run double by Craig — before Pirates manager Clint Hurdle mercifully pulled McDonald, who walked off the mound to a chorus of boos.