Political leaders in state, Valley mourn Charlie Wilson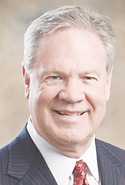 ---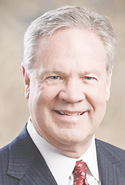 Photo
Charlie Wilson, 1943-2013
By JOHN W. GOODWIN JR
YOUNGSTOWN
Political leaders in the state and the Mahoning Valley remember former U.S. Rep. Charlie Wilson as an advocate for the working man and a loyal friend.
Wilson died Sunday afternoon at age 70 in a Florida hospital after complications from a stroke he had in February. The Democrat enjoyed a high-profile political life beginning with his election to the Ohio House of Representatives in 1996 and ending in 2010 when he lost his bid for a third term in Congress.
Wilson was readmitted to Bethesda Hospital in Florida on Saturday night. He died at 2:30 p.m. Sunday.
Shortly after his death, Wilson's family released a statement about his dedication to public service and the people of Ohio.
"Throughout his extraordinary life, Congressman Wilson was motivated by a desire to serve his country and a passion for the cause most important to the constituents of Southeast and East Ohio. Congressman Wilson served with honor, dignity and an unwavering sense of civic responsibility to the families of our region," the statement said.
"Charlie will be remembered for his boundless energy, his honest approach and his dedication to improving the lives of our future generations. ... Our communities are better places for his service."
Atty. David Betras, Mahoning County Democratic Party chairman, was attending a fundraiser for the Cuyahoga County Democratic Party when the news of Wilson's death was announced. He said there was a moment of silence in respect for Wilson.
"It was a pleasure working with Charlie. He was an advocate of the middle class and working people. He dedicated a good part of his life to public service," said Betras. "He will be very sadly missed."
U.S. Rep. Tim Ryan of Niles, D-13th, offered condolences to the Wilson family.
"I am deeply saddened by the death of my former colleague, Congressman Charlie Wilson. My condolences go out to his family and friends. Surely, this is a difficult time for them, and they are in my thoughts and prayers," said Ryan.
"Congressman Wilson was a respected leader in Washington and in Ohio's 6th District. He never stopped fighting for his constituents and was a man of great character. I admired his unwavering dedication to his constituents back home. Ohio has lost a true public servant today."
Ohio Democratic Party Chairman Chris Redfern remembered his time working with Wilson in the state Legislature and offered condolences to Wilson's girlfriend, Angela Hatfield, and the rest of the Wilson family.
"It is with much sadness that the people of Ohio mourn the loss of Congressman Charlie Wilson. I served with Charlie in the state Legislature for six years, and he was a loyal friend in good times and bad. An outspoken advocate for working people, Charlie never wavered in his service to his constituents or his lifelong pursuit to help improve the lives of others," he said. "Congressman Wilson will be missed by all those that had the pleasure to meet him and know his kindness. My thoughts and prayers are with Angela Hatfield and the entire Wilson family."
U.S. Rep. Bill Johnson of Marietta, R-6th, said he was saddened by the passing of a man he opposed in the political arena but never saw as an enemy.
"LeeAnn and I were saddened to hear of the passing of former Congressman Charlie Wilson. Although Charlie and I were political opponents, we were never enemies. He served with honor in the Ohio state Legislature and in Congress. We will be making a contribution in his memory to the scholarship fund named for him at Ohio University Eastern, and we encourage others to do so as well. May God's healing and grace be with Charlie Wilson's family in this time of sorrow."
Johnson defeated Wilson last year in Wilson's bid to return to Congress.
The former congressman was born in Dillonvale, Ohio, on Jan. 18, 1943, and was the owner of small-business ventures throughout the Ohio Valley.
Wilson was a graduate of Ohio University in Athens and was the father of four boys and grandfather of nine.
Wilson served in the Ohio House of Representatives and the Ohio Senate before being elected to Congress. He secured more than $436 million in federal funding for the 6th District.
When he was first elected to Congress in 2006, Wilson failed to get enough valid signatures on his nominating petition and ended up running a write-in campaign for the Democratic nomination. Between Wilson and the Democratic Congressional Campaign Committee, more than $1 million was spent to draw attention to the write-in campaign.
Wilson is the only candidate in U.S. history to win a political party primary against two candidates whose names were on the ballot, easily beating Bob Carr and John Luchansky.
Funeral arrangements for Wilson were not announced as of late Sunday.