Crozier tames Vikings' bats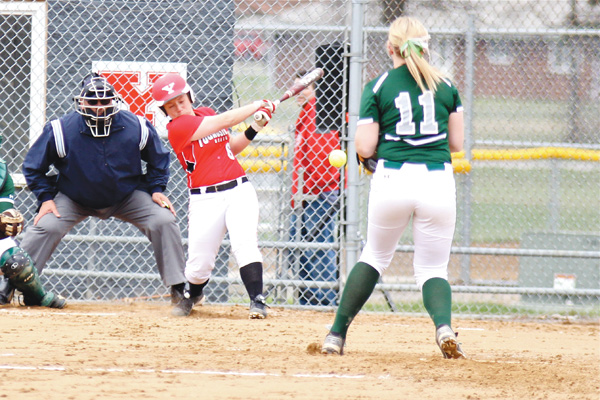 ---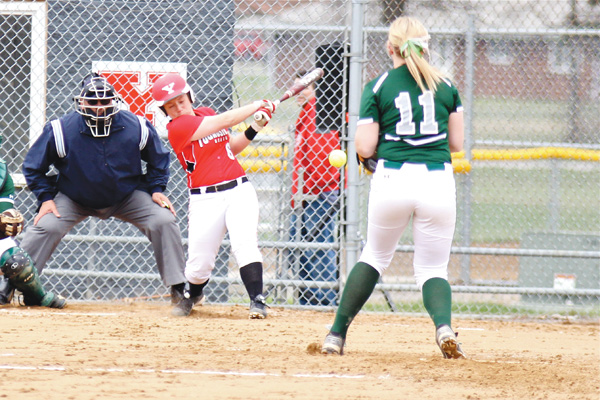 Photo
Youngstown State's Samantha Snodgrass hits a grounder to the short stop past Cleveland State pitcher Susan Knight during the third inning of Sunday's softball game at McCune Park in Canfield. The Penguins held off the Vikings to win 2-1.
By Joe Catullo Jr.
Canfield
Youngstown State pitcher Casey Crozier, fresh off a one-run defeat against Cleveland State on Saturday, earned redemption in Sunday's last inning.
A day earlier, the Vikings scored four runs in the top of the seventh inning after trailing by two to begin the frame.
On Sunday, Crozier did not allow a runner to reach in the Vikings' final at-bat and Youngstown State held on for a 2-1 victory.
Crozier set down the fifth, sixth and seventh hitters. In Saturday's collapse, Crozier gave up a leadoff home run to Dara Toman, the third hitter in the Vikings' batting order.
"I think the approach was a lot different because it wasn't as stressful," Crozier said.
The Penguins (9-16, 4-5 Horizon League) tallied their two runs in the first inning from Sarah Ingalls' two-out, first-pitch single with the bases loaded.
Ingalls said she is normally not a first-pitch swinger but had to take advantage of the fastball.
"Yesterday, she was pitching first-pitch strikes to me," Ingalls said. "I usually let that one go, but today I decided to come with the approach of swing at the first one and try not to get deep in the count because after that, they like to throw you the junk, and that's not my specialty."
Coach Brian Campbell said it was reverse psychology and has no problem when his team swings at that first pitch.
"You preach, preach, preach to your pitchers about throwing a first-pitch strike," he said. "We're telling our kids to jump at the first pitch because it's something that the pitcher wants to be ahead of."
In six games last week against Detroit and Cleveland State (12-18, 3-3), Ingalls collected 12 hits in 18 at bats, one double, one home run and nine RBIs. She also never batted higher than sixth.
With hitters like Vicky Rumph and Samantha Snodgrass hitting in front of her, Ingalls doesn't mind.
"I like when they're on because I feel more of the pressure, and I like the pressure of getting them in," Ingalls said.
The two-run first inning gave Crozier the added boost and momentum needed to pitch her fourth complete game of the week. She won three.
She allowed one run on three hits, two walks and struck out five.
"We didn't want to rest on two, but having two runs was really nice," Crozier said. "I wanted a couple more because I wanted some insurance runs, but I didn't want to get greedy."
With an off day today, the Penguins will prepare for a doubleheader at Eastern Michigan on Tuesday. Campbell said the focus is cleaning their mistakes and getting everything together defensively.
After another off day on Wednesday, YSU returns home and will play six games in four days, beginning Thursday against Loyola.
"A lot of these ladies are coming off summers where they played five games in one day," Campbell said. "I don't think it's going to affect them much. It's just a matter of going out there and playing like we did today."