YSU students examine blood patterns
Crime Scene Condo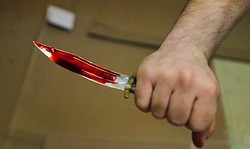 Video
YSU Criminal Justice and Forensic Science students have an unusual laboratory.
By Denise Dick
Youngstown
Blood covers a wall in a room at Youngstown State University's Cushwa Hall.
It's composed of droplets in some places with streaks and splatters in others. Some of it trickles down the wall in lazy streams. In other places, it seeps in.
Fortunately, it's fake blood used to teach YSU students studying criminal justice or forensic sciences about blood pattern and spatter.
The room on Cushwa's second floor is called the Crime Scene Condo, set up just as it sounds, to resemble an actual condo. There are two bedrooms, a living room, bathroom and a kitchen.
The university allotted the space for the CSC to accommodate the number of students in the program and their needs.
"For some things, a classroom with desks and lab benches is just not going to cut it," said Susan Clutter, assistant professor of criminal justice and forensic sciences.
The field has been growing and attracting more students since the O.J. Simpson murder trial. Attention to the field through shows such as CBS's "CSI" franchise also contributed to increased interest, Clutter said.
To make the condo as realistic as possible she visited garage sales to buy bedding, paintings and furniture to outfit it.
"When I told people what I was doing, some people really wanted to help," Clutter said.
Others found the idea off-putting.
Several mannequins lay about the room, available to be victims or witnesses depending on the assignment.
For some labs, the aspiring crime-scene technicians have to find what's wrong or missing when they arrive at the condo. For example, one of the rooms is designed as a child's bedroom, so in an abduction scenario, they have to follow the appropriate course of action.
One evening last week, students in Clutter's class of mostly upperclassmen dropped fake blood onto a variety of surfaces from varying heights and documented their findings.
Junior Kenneth McLaughlin of Boardman said blood dropped onto a piece of glass, for example, pooled and produced no scalloped edges because glass is a smooth, nonporous surface.
On a more porous surface such as cloth or cardboard, the droplets spread.
McLaughlin is studying law enforcement and plans to be a forest ranger.
In another exercise, students dipped a knife, a hammer, a clump of hair and their hands into the fluid and swung each implement near a wall to observe the patterns.
Crime-scene investigators can learn about the type of weapon and the force used by examining blood spatter, Clutter said.
"It's not 100 percent foolproof," she said.
But it does provide some indication of what transpired, allowing investigators to pass that information on to analysts.
The hair transferred a pattern of strands as well as a larger blood mark. That would mean the hypothetical victim was likely injured before his or her head was slammed into the wall, the professor said.
In another lab, students poured blood onto paper and observed the pattern after walking and running through it.
Mark Prior, a junior from Cleveland who plans to become a police officer, said when they ran through the puddle, the blood splashed into smaller drops, indicating speed.
A knife slashed toward the wall produced a narrow arc of blood, surrounded by droplets, while the hammer made a larger splotch.
"With the hammer, there's more surface to cast off" the fluid, Prior said.