DeCarlos honored by family for 65th anniversary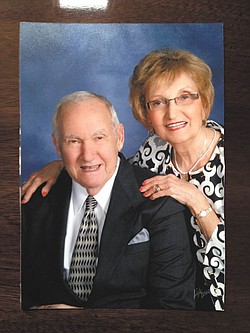 Photo
Mr. and Mrs. Matthew DeCarlo
BOARDMAN
Mr. and Mrs. Matthew DeCarlo of Boardman renewed their marriage wedding vows on April 7, their 65th anniversary, at Holy Family Church in Poland.
After the ceremony, a dinner party honored the couple at the home of their granddaughter and her husband, Leanna and David Kemble of Canfield.
The party was hosted by their daughters and spouses, Karen (Anthony O.J.) Thomas of Canfield and Renee (Jim) Drentkiewicz of Mars, Pa.
They also have two grandsons, Anthony (Janice) Felt of Fairfax, Va., and Matthew (Lauren) Thomas of Stow, Ohio.
Four great-grandchildren, Jackson and Thomas Kemble and Tobin and Anthony Felt, complete the family.
The former Thomasine Flask and Mr. DeCarlo were married April 7, 1948, at St. Anthony Church in Youngstown.
The couple are members of Holy Family Church. They retired in 1982 from Union Distributing Co. in Girard, a family-owned business. Mrs. DeCarlo was secretary and treasurer for the company.
Mr. DeCarlo is a U.S. Army veteran, having served in the Signal Corps. He retired as captain of Youngstown Fire Department in 1981.