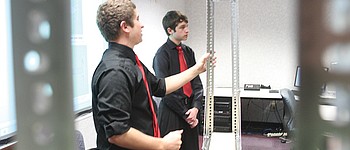 YSU students engineer new uses for product
Published: 4/12/13 @ 12:09
By Denise Dick
Youngstown
Austintown company Hynes Industries issued a challenge to Youngstown State University engineering students: Identify new uses for its Flex Angle product.
The metal product is used by both industrial customers and do-it-yourselfers for shelving, carts and tables.
D.R. Golding, Hynes president and CEO, said the company has a long history of involvement in the community from the United Way and Beatitude House to YSU.
The company recently launched a marketing initiative for its Flex Angle. It asked the first-year honors engineering students in assistant professor Kerry Meyers' class to create, design and construct new uses for the product to provide experience to those students as well as to discover new possibilities for the Flex Angle.
Four teams of two students each met about six weeks ago with Hynes representatives, presenting ideas. Those ideas were narrowed to one or two concepts per team that the company thought looked promising.
They ranged from a shoe rack and scaffolding by Brandon O'Neill of Lordstown and Kyle Spickler of Columbiana to a holder for pots and pans, practice target and firewood organizer by Kelsey Kridler of Leetonia and Karen Schilling of Mineral Ridge.
Jakub Kelly of Prague, Czech Republic, and Aspen Glaspell of Lowellville, created a counter, chair frame and foldable ladder.
Kridler said her inspiration for the designs came from her home.
"I live in the middle of the country," she said. "I saw how my dad stores his firewood."
She thought a better idea would be a rack that keeps the wood off of the ground.
The concept Hynes chose was a modular desk by Gina Mancini and Sean Meditz, both of Canfield.
It's a desk targeted at college students. The pieces can be bolted together to form two desks side-by-side, or taken apart to move the units separately.
Mancini and Meditz said the idea came from desks they've seen in dorm rooms that are cluttered and unorganized.
Their design, if used in YSU dorm rooms, would save space and money, Meditz said.
"The whole idea was to be creative and for it to be customizable," he said.
Don't Miss a Story
Sign up for our newsletter to receive daily news directly in your inbox.