Violent crime down, arrests up in Youngstown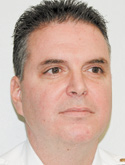 ---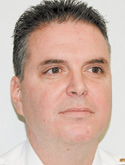 Photo
YOUNGSTOWN
Youngstown police released crime statistics for the first quarter of 2013 showing a decrease in overall crime over the last three years.
The numbers for violent crimes in the city such as homicide, robbery, aggravated assault and burglary have dropped as much as 63 percent when compared with the same time frame in 2012 and as much as 55 percent compared with the same time frame in 2011.
There also has been a notable increase in arrest percentages over the same three-year period with the only decrease being for aggravated assault between 2011 and '13.
Police Chief Rod Foley said he understands that crime statistics do fluctuate and there often is no expla- nation for that, but, he said, some of the changes in practices at the police department are at least partially responsible.
"These crimes can come in streaks, but I like to think we do have some influences on that. If you keep the pressure on [criminals], they realize that we are watching, we know who they are and we are aggressively interacting with them," said Foley.
One of the changes Foley said the department is implementing is the overall view on proactive policing. Foley said officers are using down time to get out in the community more and interact with regular residents as well as those engaged in illegal activity.
Those practices, Foley said, have helped lead to one of the increases Foley is most proud of — arrests of those carrying illegal firearms. Those arrest figures for the first quarter of 2013 increased 650 percent compared with 2012 and 57 percent between the first quarter of 2013 and 2011.
"The biggest thing I am happy about is our gun arrests. ... For far too long, there has been a segment of our community that feels carrying firearms is not illegal or that no one is monitoring. If you are out there with an illegal gun, our officers are going to find a way to interact with you," said Foley.
Part of the incentive for officers to make those gun arrests is a program wherein officers who make more than five arrests for guns receive an acknowledgment pen and time off. Thus far, more than a dozen officers have reached the benchmark of five arrests, and several have exceeded it.
Another program Foley said is working to the benefit of the department in reducing overall crime is the use of computer mapping to pinpoint where problem areas are in the city. He said the programs allow the department to take a more-targeted approach to fighting crime in those areas.
Foley said the department also is sharing information with other law-enforcement agencies and task forces as a means of building stronger cases against those committing crimes in the city. A good example of those efforts, he said, is the Community Initiative to Reduce Violence, which incorporates police, clergy and social services.
City Prosecutor Dana Lantz said working with the police department and other departments has helped the prosecutor's office build stronger cases, which also affects the crime rate by keeping habitual offenders behind bars.
"We all have the same objective and that is to reduce crime," she said. "They are making good arrests, and we in turn are doing meaningful prosecutions."
Lantz said there are two examples of the prosecutors and police working in concert with other police departments to make arrests and prosecutions with a regional impact.
There is a case pending in Mahoning County Common Pleas Court against a nine-person group that police believe is responsible for five armed robberies in the city and Boardman. There also is a pending case in which two men are charged with robbing people at gunpoint at ATMs in the city, Liberty Township and other surrounding jurisdictions.
"These things do make an impact because those robberies have stopped," she said.