Vista Center of Boardman celebrates Easter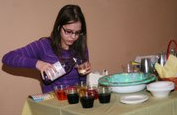 ---
More than 75 guests ate an Easter brunch prepared by chef Paul Landerfield during an open house at Vista Center of Boardman on March 23.
Landerfield is a certified executive chef who has worked in Boca Raton, Fla., Atlanta and Georgia for 12 years, as well as upscale health care communities for 14 years, including two years at the Cleveland Clinic.
"Since I started working at Vista Center of Boardman, I have been able to use my experience from the restaurant business and health care communities to bring a high-quality dining experience to residents of the center," he said.
Storyteller Johnny D'Andrea captured the attention of the guests with his humorous interpretation of the Dr. Seuss children's book "Green Eggs and Ham." He recently competed with Canfield High School's speech team, placing fifth in the state of Ohio as a finalist for humorous duo interpretation.
The event also included an Easter Egg Hunt sponsored by Youngstown's children's museum, OH WOW!, photos with the Easter Bunny and Harbor Pets of Boardman's very own live bunnies Daisy and Petunia.
Children of all ages listened, sang, danced and played instruments provided by the band Sugartree Alley, featuring steel drums, keyboard and vocalists.
Boardman High School Health Educator and Key Club Adviser Patti Reitmann and 13 Key Club members volunteered at the event.