Students use technology to prep for test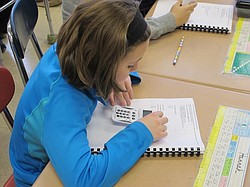 Photo
Neighbors | Natalie Scott.Fourth-grade student, Hannah, used the key pad to put in her answer to a practice question at Poland Union Elementary School March 26.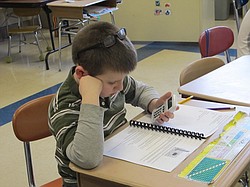 Photo
Neighbors | Natalie Scott.Nick, a student in Mrs. Williams' fourth-grade class, worked on his practice test using the program from Turning Technologies March 26.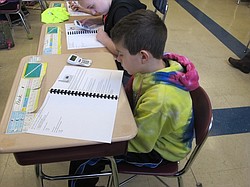 Photo
Neighbors | Natalie Scott.The practice tests contained all of the different types of problems that fourth-grade students would have encounter on the assessment test on April 23 and 25, including reading comprehension questions, like the one Mark worked on in Mrs. Williams' classroom at Poland Union Elementary School March 26.
By NATALIE SCOTT
Third- and fourth-grade students at Union Elementary School will be taking state assessment exams April 23 and 25 and are working hard to prepare for the upcoming challenge.
This year, Union partnered with Turning Technologies to offer students a different way of practicing for the exam with questions more closely linked to those students would see on the actual test. The software, developed by Turning Technologies, was used March 26-27 in both third and fourth-grade classes.
"The teachers loved the program and a couple of the parents I talked to said their children loved it as well," said Mike Masucci, principal at Union Elementary School. "I think working with Turning Technologies was a really great experience. If nothing else, the software provided a great opportunity for our students to see the kinds of questions that will be on the test."
The students were given a test booklet to read, just like in the real assessment test, but answers were recorded using a keypad that would record the data by student and offer instant results on how students performed and on what areas the students needed more work.
Having this kind of knowledge instantly allows teachers to help students correct mistakes and study information quicker than before, hopefully resulting in better test results.
"I would like to thank Stephanie and all of the rest of the staff at Turning Technologies for their hard work on this program and for the opportunity it gave our students," said Masucci. "It really is a great program and I think it will help to better prepare our students for the tests this April."