Poland Boy Scout earns Eagle award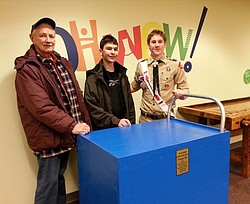 Photo
Neighbors | Submitted.Clayton Walker of Poland Scout Troop 002 chose a project to benefit OH WOW! in his mission to earn the rank of Eagle Scout. Clayton's fellow troop members helped him complete the project and dedicate the science cart to OH WOW! Pictured, from left, are Ron Harris, Troop 002 advisor, Scout Victor DiTommaso and Walker.

Photo
Neighbors | Submitted .Future Eagle Scout, Clayton Walker, delivered his hand-made science cart to OH WOW! The Roger and Gloria Jones Children's Center for Science and Technology on April 2. The cart will allow OH WOW!'s education department to offer interactive demonstrations on the exhibit floor. Pictured, from left, are Clayton Walker Scout Troop No. 002, Suzanne Barbati, OH WOW! executive director and Audra Carlson, OH WOW! education manager.
For a scout aspiring to be a pediatrician, completing an Eagle Scout project that would benefit children was an easy decision.
"When I found out I was able to do a project for kids, I knew that was it," said 17-year-old Clayton Walker of Poland Troop No. 002.
Walker contacted OH WOW! at the end of last year to find out how his path to earning the rank of Eagle Scout could enhance the museum's mission and best serve the center's visitors.
After planning sessions with education manager, Audra Carlson and executive director, Suzanne Barbati, the idea of an education STEM cart was developed.
"We wanted an education cart because our visitors need to see hands-on demonstrations," said Carlson. "Clayton's cart will provide the proper stage to conduct demos on the exhibit floor."
Demonstrations shown on the exhibit floor will be designed such that observers can reproduce the same experiments at home or in the classroom with basic household materials.
"OH WOW! strives to offer new exploration for our guests and the well-executed cart designed by Clayton and his fellow troop members will enable us to create a variety of experiences for our members and visitors," Carlson said.
Clayton delivered the cart to OH WOW! recently and was joined by family, friends, fellow Scouts and Troop No. 002 Adviser Ron Harris.
Troop No. 002 is more than 80 years old and has had 89 Scouts earn the rank of Eagle Scout. "Clayton will be number 90," Harris said.
About 15 of his fellow Scouts assisted with the project, as well as Boy Scouts of America, Evets Mechanical, Home Depot of Boardman, Mrs. Gene Clayton, Power Tool and Supply and R and S Paint.
"Earning the Eagle Scout rank feels like a lot of hard work paying off," Walker said. "You don't learn anything like you learn in Scouts, and I wouldn't be the person I am today without Scouts."