ODOT construction plans announced for Mahoning, Trumbull, Columbiana counties
---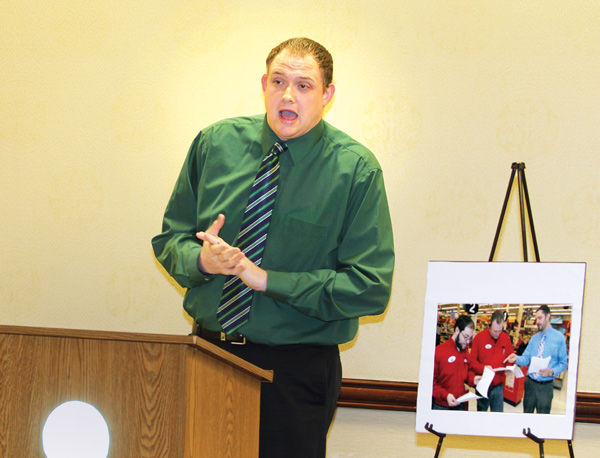 Photo
ODOT District 4 spokesman Justin Chesnic tells news reporters Thursday about upcoming Mahoning Valley road construction projects.
By Susan Tebben
BOARDMAN
Drivers soon will see the infamous fifth season in Ohio: construction season.
The Ohio Department of Transportation on Thursday laid out its big projects while also emphasizing driver safety. Some of the projects include resurfacing, bridge and ramp work on U.S. Route 224 and Interstates 80 and 680.
"We work closely with Eastgate [Regional Council of Governments], and they prioritize a list of the major projects that they think are needed," said James G. Kinnick, ODOT planning and engineering administrator.
There's also a program that identifies the roads with the highest safety issues, such as crashes, and a 10-year plan from which ODOT pulled projects for this year's construction program, Kinnick said.
Total costs statewide for the 2013 program are estimated at $445.4 million, with $409.3 million in construction costs. In Mahoning, Trumbull and Columbiana counties alone, the total is $138.4 million.
The ODOT representatives discussed how congestion would play into the construction, especially with major projects such as the $9.7 million in resurfacing and bridge repairs to Route 224 in the city of Canfield, village of Poland, and townships of Boardman, Berlin and Milton. The projects are set to start in August and finish in October.
Before the projects get underway, ODOT will notify business owners and meet with them to answer any questions they have.
Business owners "appreciate that we are letting them know what's coming their way so they can tell customers," said Justin Chesnic, ODOT District 4 public information officer. "It eases their frustration."
He mentioned the Route 224 project and the $14 million Interstate 680 project in Youngstown to rehabilitate seven bridges as major efforts.
Chesnic also said ODOT staff would be visiting business owners a week or two before the state Route 616 and U.S. Route 422 project in Coitsville Township and the city of Campbell begins in May. For the bridge replacement at the intersection of 422 and 616, both routes will be closed for 90 days each.
"We try to impede traffic as little as possible, but we want to make sure drivers prepare and give yourself a little more time," Chesnic said.
He said it is important for drivers to slow down in work zones, especially in areas that already are congested. As in nonconstruction areas, Chesnic said, drivers should focus on driving and not be distracted.
"Taking your eyes off the road for two or three seconds can change a life. All of a sudden, you're up against the barrels," he said.
Among other major projects included in the 2013 plan is a $10.4 million Interstate 80 project in Liberty and Hubbard townships that is slated to be completed in October 2013. Construction will include resurfacing of I-80 from state Route 193 to Mount Everett Road, along with re-decking and widening of bridges over Logan Way Road and Sampson Road.
Once the construction summer is through, ODOT will start one of its biggest projects of the year: another stretch of I-80 in Hubbard Township that will be completed in September 2016 at a cost of $17.7 million. The bridge replacement over Mount Everett Road is set to be awarded to contractors in December.