Jewish council sponsors Holocaust remembrance at Mahoning courthouse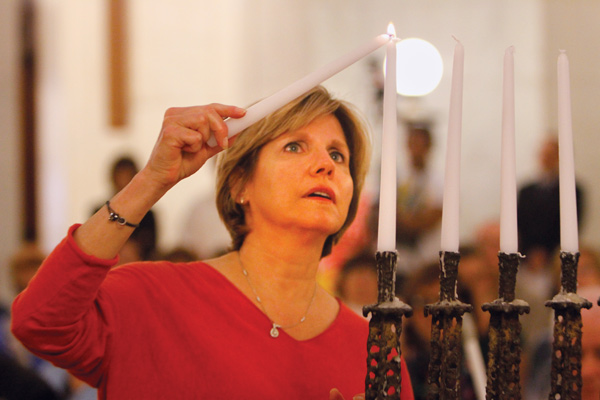 ---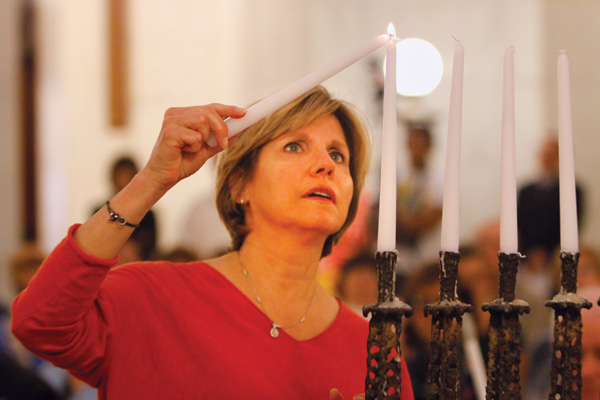 Photo
Terri Anderson of Youngstown, a child of survivors of the Holocaust, lights the first candle during a ceremony at the 20th annual Yom Hashoah (Holocaust remembrance) on Thursday at the Mahoning County Courthouse. The theme was "Never Again: Heeding the Warning Signs."
By LINDA M. LINONIS
Youngstown
Speakers at the 20th annual Yom Hashoah (Holocaust remembrance) observance Thursday in the rotunda of the Mahoning County Courthouse presented perspectives on the theme "Never Again: Heeding the Warning Signs."
About 75 people gathered for the event sponsored by the Jewish Community Relations Council of the Youngstown Area Jewish Federation.
Rabbi Joseph Schonberger of Temple El Emeth in Liberty, and son of Holocaust survivors, noted "both victims and liberators saw horrors." It is the responsibility of each individual to recognize the warning signs and work to prevent "such evil again." The rabbi, co-chairman of the Holocaust Commemoration and Education Task Force, said only "unity of purpose and unity of resources will safeguard the future."
Rabbi Franklin Muller of Congregation Rodef Sholom in Youngstown, who offered the invocation, recalled when he was in high school, the Holocaust was only mentioned in religious studies. He said times have changed so much. Now he is "amazed at the depth of compassion" by so many others of different faiths "to feel Jewish suffering."
He also echoed the idea that it's up to all people "to champion justice for all human beings." "Only when we're indifferent can hate exist," he said.
DeMaine Kitchen, chief of staff for Mayor Charles Sammarone, presented a proclamation to recognize the observance. He said "respect for all people" will "preserve the future."
Rabbi Daria Jacobs-Velde of Congregation Ohev Tzedek in Boardman oversaw the candlelighting ceremony with children of survivors, Terri Anderson, Eva Cropp, Rabbis Muller and Schonberger and Alvin Weisberg and grandchild of survivors, Dr. Helene Sinnreich.
Rabbi Jacobs-Velde cautioned the audience that though the world is aware of Adolf Hilter's "cleansing process" that killed 6 million Jews, people worldwide must remain vigilant and "heed the signs."
Locally, nationally and internationally, she said, people must be "aware of the situations around us in which people are being abused." She urged witnesses of such events "to speak up."
Today, she said, people may be targeted because of their religion, education, age and sexual orientation. "Some make a choice to hate," Rabbi Jacobs-Velde said. She urged concerned people "to make a difference and speak out."
The rabbi said, "If we're united as human beings, we have the opportunity to create a better world through our actions and reactions."
Rabbi Jacobs-Velde led the mourner's kaddish (prayer). Dr. Sinnreich, Youngstown State University professor of history and director of the YSU Center for Judaic and Holocaust Studies, presented students recognized in the Holocaust writing contest.
Lori Szoke, seventh- and eighth-grade art teacher at Boardman Center Middle School, also spoke. She works with Jesse McClain, an English teacher and Holocaust scholar, who asked her to participate. "I believe we're all here for a divine purpose," she said. "We need to teach young people to have a voice and teach them to live courageous lives."
Rabbi Jacobs-Velde offered the benediction — asking people to be aware so that the world will not have to say "never again" in another case of atrocities. The alarm on the metal detector at the courthouse entrance, which went off intermittently, seemed to underscore the speakers' message of vigilance.
vigilence voiced by the speakers.