Dobbins student wins state poster contest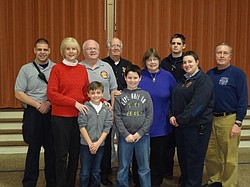 Photo
Neighbors | Submitted.Wyatt Bobbey (front left) and Anthony Koulianos (front right) are shown with, from back, (left) Robert Sanchez, third-grade teacherDebbie Patsko, Bill O'Hara, Tim Royer, fourth-grade teacher Elaine Morlan, Tyler Adams, Sara Rolland, and Mr. Hallas March 22.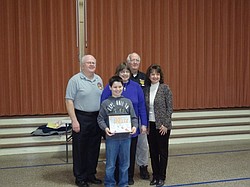 Photo
Neighbors | Submitted.Anthony Koulianos (front) showed off his poster at the assembly March 22 with, from left, (back) Bill O'Hara, fourth-grade teacher Elaine Morlan, Tim Royer, and Dobbins principal Cheryl Borovitcky.
By NATALIE SCOTT
Dobbins student Anthony Koulianos has been announced as the state winner of the 2013 Fire Safety Education poster contest. He and local winner Wyatt Bobby were recognized in an assembly March 22.
At the assembly were the students' parents, Fire Prevention Officer Bill O'Hara, First Responder firefighter Mr. Hallas, firefighter and EMT Sara Rolland, Cadet firefighter Tyler Adams, firefighter and EMT Robert Sanchez, and Fire Safety Educator at the State Fire Marshall's office Tim Royer.
"We are thrilled to have our students recognized at the local and state level for their fire safety posters," said Dobbins principal Cheryl Borovitcky. "Spreading the message of fire safety is the important reason our students are excited to participate."
Both winners will receive a ride in a fire truck to school in May. Koulianos will also receive a gift card to Friendlys and a framed copy of his poster.