Collisions just part of game for Indians' Marson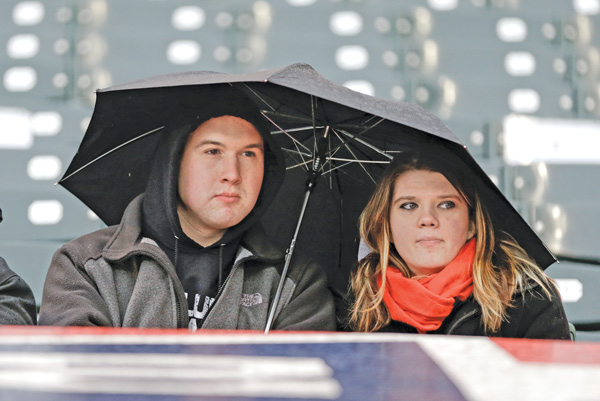 ---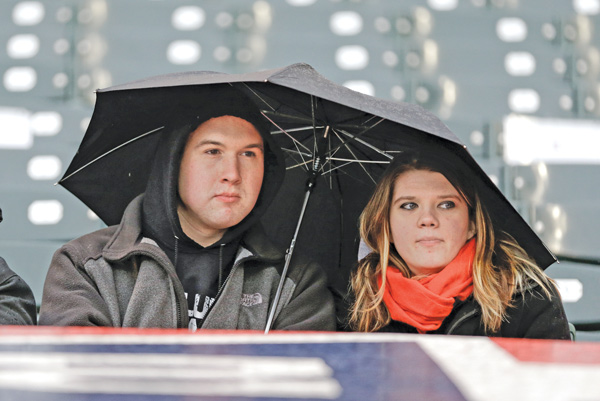 Photo
Fans sit under an umbrella in the rain at Progressive Field in Cleveland before the start of Thursday's baseball game between the Indians and Yankees Cleveland. The teams were rained out for the second night in a row.
Associated Press
CLEVELAND
Stiff neck and maybe slightly bruised confidence aside, Lou Marson knows he's lucky.
Days after he was flattened by Tampa outfielder Desmond Jennings in a ferocious and frightening collision at the plate, Marson, Cleveland's backup catcher, has not completely recovered from the impact of a violent play that has sparked debate over whether it should be outlawed from major league baseball.
"I'm feeling better," Marson said Thursday before the Indians and New York Yankees were postponed by rain for the second straight day. "My neck's still sore. But hey, it could have been worse."
So much worse.
Last Saturday in Tampa, Marson came out on the wrong end of a nasty pileup in the dirt around home with Jennings, a former high school football star, who tried unsuccessfully to dislodge the ball from Marson in the third inning. With none out, Jennings broke for the plate on a routine infielder grounder, and at full-speed, plowed into Marson, who had his helmet knocked off and was flattened but held on to the ball for the out.
Marson's head snapped back scarily and he was laid out by Jennings, who lowered his shoulder to deliver the blow. Marson's unprotected head bounced off the ground.
"I don't think it was dirty at all," Marson said. "I didn't give him any place to slide, and the only place he could go was through me. I didn't have time to give something back, so I put my head down and that's why I had all the impact in my neck. I didn't have a concussion or anything so that was good."
However, Marson did wind up on the 15-day disabled list for the first time in his career with a strained neck. He came off the bench in Cleveland's home opener on Monday after starter Carlos Santana bruised his left hand on a pitch. Marson played one inning, but he didn't feel right and the Indians put him on the DL the following day.
Marson was surprised to see a photo of his rough run-in with Jennings attached to an internet story by Sports Illustrated's Tom Verducci, who advocates banning home-plate collisions or as he called them the "most unnecessary play in baseball."
While Marson is all for reducing the risk of injury, he believes prohibiting the play would be a bad idea.
"You don't want to take it out of the game," he said. "The home run, the triple, the play at the plate, those are the most exciting plays in baseball. You just have to put yourself in the best position to keep yourself safe. I'm surprised I haven't gotten blown up more just because of the way I block the plate. When I first signed, that's how I was taught to block the plate. It was such a bang-bang play that I didn't even feel it."
After getting to his knees, Marson thought briefly about getting up and walking to the mound. But he was a little dazed and decided to stay put.
"I needed a few seconds, and then he (trainer Lonnie Soloff) was there, so I just stayed where I was," Marson said.