West Virginia stalled Donofrio identification, Ohio official says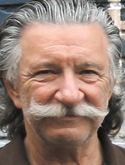 ---

Photo
YOUNGSTOWN
The lapse in time between the discovery of James Donofrio's body in the Ohio River and the entry of autopsy findings into a national missing-persons database is the reason it took a full year for his remains to be identified, according to the Ohio attorney general's office. Donofrio of Boardman, 64, owner of the former Avalon Gardens restaurant and bar, was reported missing Sept. 26, 2011, by his wife, Rosanne.
His body was recovered after it was discovered by a fisherman March 25, 2012, on the Ohio side of the Ohio River, a quarter-mile south of Clarington, Ohio. The remains were identified Tuesday by the West Virginia State Medical Examiner's Office as those of Donofrio.
Because West Virginia has jurisdiction over the entire river, the body went to the West Virginia State Medical Examiner's Office for an autopsy.
West Virginia authorities did not enter the dental and physical characteristics information from the autopsy into the National Missing and Unidentified Persons System database until March 27, 2013, said Dan Tierney, a spokesman for the Ohio Attorney General's Office.
The Ohio Bureau of Criminal Investigation, which is part of the AG's office, has a missing persons unit that works with local law enforcement to find missing people.
Asked to explain the one-year delay, Tierney said: "That would be a question for West Virginia."
Marsha Dadisman, public information officer for the West Virginia State Medical Examiner's Office, did not respond to a request to comment on the delay. As of Tuesday, that office had not issued an official cause of death.
Youngstown Police Chief Rod Foley declined to comment on the delay because he said he did not have complete information on it, but he did say that the West Virginia pathologist assigned to the case is on sick leave, and that city police cannot obtain the autopsy report until he returns to work.
Despite the long delay in this matter, Tierney said the Donofrio case illustrates that "we can identify remains and bring closure to families," from "disparate jurisdictions," using the NAMUS database, which is administered by the U.S. Department of Justice.
A family member entered Donofrio into NAMUS on Oct. 16, 2011, and, two days later, BCI assigned a case manager to the Donofrio matter to work with city police and the Mahoning County Coroner's Office to make sure X-ray, dental and other relevant medical records were entered into the database, Tierney said.
However, the bulk of Donofrio's medical and dental records were not sent by the Mahoning County Coroner's Office to BCI for inclusion in NAMUS until April 10, 2012, Tierney said.
Dr. Joseph Ohr, forensic pathologist and deputy Mahoning County coroner, said his office sent the information for inclusion in the database after his office had determined that a man, whose badly decomposed body was found along the Mahoning River in Struthers, was not Donofrio.
"We were not involved with the Donofrio case, except to rule out Mr. Donofrio in the Struthers case," Dr. Ohr explained. "We don't get involved in a missing person case until we have a body."
Members of the Donofrio family provided the name of Donofrio's dentist and authorized release of his dental records when an FBI agent involved in the investigation requested them in April 2012, according to the family's lawyer, Jim Tadla.
The family had provided authorities with DNA samples within days of the disappearance, Tadla said.
"The family turned everything over to authorities as requested," Tadla said. "The family has always cooperated, and in a timely manner, he added.
"This family deserves an explanation as to why they've had to suffer this past year since his body's been in West Virginia," Tadla said. "We don't want any families to ever have to go though this. If the system's broken, then fix it."
As for Donofrio's body having been found so far down river from his point of disappearance in Youngstown, Dr. Ohr said: "It's certainly possible that he washed 145 miles down river."
While it is rare for bodies to be found so far down river from the point of their disappearance, Dr. Ohr said he has seen cases in Florida where bodies have traveled hundreds of miles down river.
"We may never know what happened to Jim. We hope we do, and it's going to be difficult," Tadla concluded.