Ohio rescue gives safe haven to abused, abandoned bunnies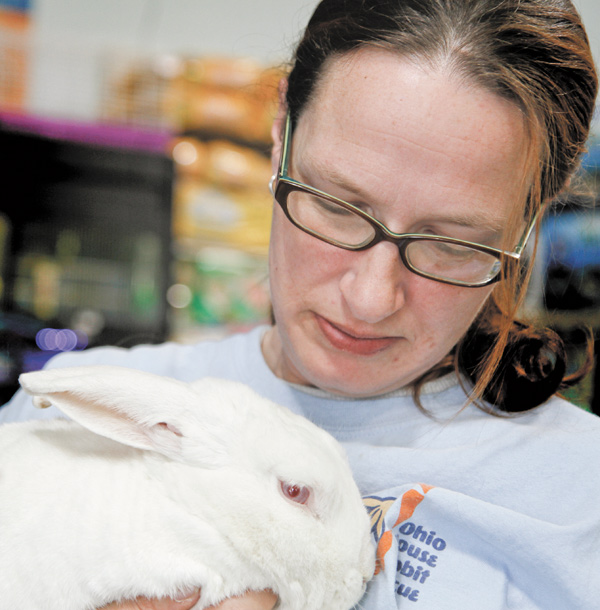 ---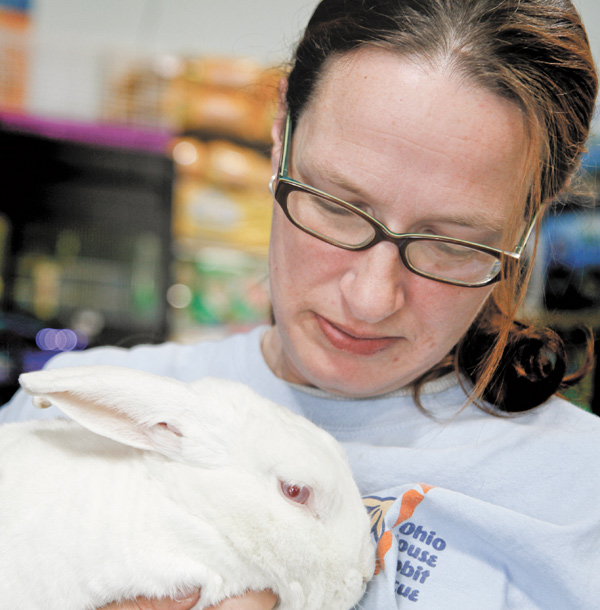 Photo
Dana Donnelly of Ohio House Rabbit Rescue holds her rabbit Kris at Quality Pet Mart in Austintown.
By LINDA M. LINONIS
linonis@vindy.com
AUSTINTOWN
Members of Ohio House Rabbit Rescue hop to it to save abandoned and neglected bunnies.
Based in Columbus, OHRR depends on a network of rabbit rescuers to help Thumpers of all shapes, sizes, colors and breeds. Among them are Dana Donnelly of Austintown, who became intrigued by rabbits after getting three at the Canfield Fair about four years ago.
But she'll be the first to tell you her story shows why impulsively getting any pet is a bad decision. What happened led to her involvement in rabbit rescue. At this time of year,
Donnelly predicts the novelty of rabbits acquired as pets around Easter is wearing thin in some families. The bunnies will be abandoned or surrendered.
Donnelly's experience with rabbits has been educational. She said one of the three rabbits bought at the Canfield Fair died soon after, and "we didn't know why." The death motivated her to research rabbits to better care for the surviving bunnies, Abby and Bella, Silver Martens. Another pet, Jack, a Netherland Dwarf, is a certified therapy rabbit that Donnelly takes to nursing homes.
"I found out rabbits are high maintenance, need vet care and the right diet," Donnelly said.
She added that people who get rabbits and tire of them, put them in a small cage and just feed them are dooming them. "They're social animals," she said. Pet rabbits bond to other rabbits and become attached to attentive owners.
Some people, who don't want a rabbit any longer, think turning it loose is OK. "Letting a domesticated rabbit loose is a misdemeanor ... just like abandoning a cat or dog," Donnelly said. Pet rabbits "don't know how to scavenge for food." Donnelly said these pet rabbits become "food for predators, hit by cars, starve to death or are killed by hunters."
Pet rabbits surrendered to shelters don't fare much better. "They're the third most popular pet and the first to be euthanized at shelters. There just isn't space."
Donnelly began fostering rabbits for Judge's Park Small Animal Rescue in Edinburg, Pa. That connection brought her in contact with Ohio House Rabbit Rescue; F5RS (Frisky Ferrets, Fuzzies, & Feathered Friends Rescue & Sanctuary) in North Lima, a rescue for birds, ferrets, guinea pigs; and Buckeye House Rabbit Society, a rescue in Cleveland. "We all work together to help animals," Donnelly said.
Donnelly is fostering about 10 rabbits. "They come with all kinds of stories," she said. "Many were impulse buys."
Kris, a red-eyed white bunny, came from an abuse situation. Donnelly said though some people dislike the red eyes, these bunnies are "calm and sweet."
Sarah Jane, a Dutch mix, was found as a stray by a Good Samaritan. They will be up for adoption. Pancho and his brother, Lefty, are English Lops who are both blind because of breeding and care issues. They are not adoptable.
Donnelly said when baby bunnies grow into rambunctious teens, pet owners are often dismayed. "They spray and would bite. They couldn't be handled," she said. The owners didn't understand that the rabbits were hormonal. "Spaying and neutering addresses most behavioral problems," she said, adding it also helps keep the rabbits healthier. Fixing them calms them down, she said, and often prevents cancer.
"They're not cheap pets," Donnelly said, though initial cost is deceptively low. She advises finding a veterinarian who has experience with exotics; Donnelly goes to Town and Country Veterinary Hospital in Howland. Rabbits also are fragile and can be injured if not handled correctly. "Children should never be unsupervised with rabbits," she said, adding pet rabbits can teach children important lessons about gentleness and kindness.
Donnelly said her personal pets and fosters are a source of joy. "They have the IQ of a 3-year-old," she said. "They have great personalties and a sense of humor." When they're happy, they hop and twist. They also are vocal, she said, and will grunt, growl and scream when in pain.