Austintown's fallen soldiers honored with fund raiser, memorial monuments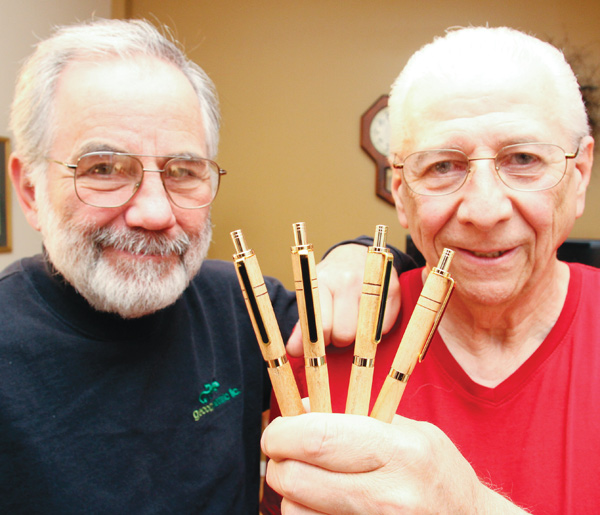 ---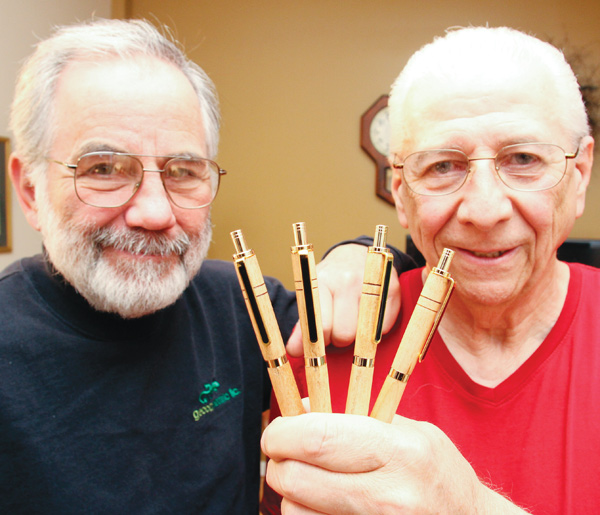 Photo
Austintown Fitch High School 1962 graduates Larry Cadman, left, and Jack Kidd display ink pens made of wood from the old Fitch High School gym floor. The pens are being used to raise money for a memorial to two Class of 1962 graduates who were killed in the Vietnam War.
By Susan Tebben
AUSTINTOWN
Jack Kidd and Larry Cadman were sitting at the 50th class reunion with some of their Austintown Fitch classmates when the idea of using ink pens to honor classmates lost in the Vietnam War came up.
The class had just had a memorial for deceased classmates, including Marine Sgt. James "Jimmy" Prommersberger and Army 2nd Lt. Charles "Chas" Brown Jr., both killed in 1962 on the battlefield.
"When you get older, you start thinking about these sorts of things," Kidd said.
What started as a thought at a reunion has become a fundraiser to put in two memorial monuments to Prommersberger and Brown, one inside Austintown Fitch High School and one near the football field. Kidd, Prommersberger and Brown played football for Fitch from 1959 to 1961.
The many connections of Fitch High School classmates are keeping their memories alive.
Prommersberger's daughter, Kristin Prommersberger-O'Neill, now teaches at the school, and Junior Principal Tim Kelty is a proud recipient of the athletic award named after Prommersberger — the only award named after an Austintown alumnus.
"The guy was 5 feet 6 inches, but he played like a giant and had this never-say-die attitude," Kelty said. "To me, it was like winning the Heisman."
Kelty gained a further connection to Prommersberger when he joined the military and was deployed in Operation Desert Storm until 1991. From his experience and learning about Prommersberger, Kelty is willing to do what he can to see monuments at Fitch and bring the connection he has to other students.
"I want them to know that there are people who have walked the halls that are extremely special," Kelty said. "There were people before you that were in the same halls and lived in the same neighborhoods that did something very special, and I know they [current students] could as well."
After they left high school, all four men went off to war, Prommersberger to the Marines, Kidd and Brown in the Army and Cadman to the Air Force.
"I'm a Vietnam veteran, but I got to come back and live my life," Cadman said.
Part of living his life is a hobby of making ink pens out of recycled wood. That hobby became the fundraiser when Kidd and Cadman and the rest of the monument committee got pieces of the old Fitch gymnasium floor. The pens are being sold for $30 to benefit the monument fund. They are a piece of an old school to bring back memories, with two rings burned into the end to represent the two fallen soldiers.
"If they've been forgotten, we want to make sure that doesn't happen again," Kidd said.
The committee is hoping to raise $5,000 for the memorial monuments and has raised about $3,000 so far.
To order a pen and donate to the war memorials fund, checks can be sent to:
Carole Cooley, 8031 Camden Way, Canfield, OH 44406. Checks should be made out to the Class of 1962 Memorial Fund.