Published: Wed, April 10, 2013 @ 12:00 a.m.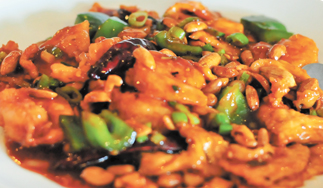 Photo
Pho Saigon's Kung Pow Chicken & Shrimp
If You Go...
Place: Pho Saigon
Address: 6532 South Ave., Boardman
Phone: 330-729-9588
Hours: 11 a.m. to 10 p.m. Tuesday through Saturday; 11 a.m. to 9:30 p.m. Sunday; closed Monday
About Signature Dishes: Mike Vallas and Mark Smesko are on the lookout for the biggest, hottest and tastiest dishes in the Valley. Email them at BrothersInFood@gmail.com
By Mike Vallas and Mark Smesko
"So why do you guys want to do this?"
Before we respond to Vindicator Editor Todd Franko's question, we feel a little introduction is in order.
About a year ago over an evening's conversation enhanced with 3 fingers of Makers Mark, we decided to go out once a month for lunch and visit some of the diners, drive-ins and dives around Youngstown.
Our goal was to sample what each place was known for and eat like men bound for the electric chair. And for the last year we've pretty much stuck to our scribbled list of places to go.
So when the "Foodies Wanted" ad appeared in the Vindy, we figured why not apply? We're doing this anyway.
So this is our first — and hopefully not our last — review for Signature Dishes.
It didn't take us too long to pick the place to visit ... Pho Saigon in Boardman. We stopped in on a Saturday to introduce ourselves to the owner and explain our mission: to highlight their own unique dish that they have to offer our community.
Despite a language barrier and the initial belief that we were trying to sell him ad space, the owner, Xiao Wang, welcomed us to come back the following Saturday to sample his pho.
Pho, pronounced "fuh," is a traditional Vietnamese dish. Some say it's the national dish of Vietnam. On first impression this dish may seem like a simple soup with rice noodles, but there are a lot of time, technique and ingredients involved in getting the harmony of flavors in this dish.
Pho Saigon has been open for about five years and was originally operated by Xiao's uncle. Xiao and his wife have been running the restaurant for the past 12 months. When he and his family talk about their menu, you can see how proud and excited they are to share their cuisine with the Youngstown area. Even though we went for their signature pho, Xiao and his family were eager for us to try a full array of the dishes they had to offer.
Our meal started off with a warm and fragrant cup of jasmine tea accompanied by two different types of rolls, one being the Vietnamese version of a traditional egg roll called cha gio. Similar in ways to its Chinese counterpart, this roll is filled with minced pork, julienned carrots and taro (a distant cousin of the potato), then fried to a golden brown. In contrast, the other is a summer roll called goi con, which uses a soft rice paper wrapper and is filled with shrimp, lettuce, bean sprout, vermicelli noodles, mint and cucumber.
Refreshing is the most apt way of describing this item. Both rolls were complimented by a pair of dipping sauces. The first was a pepper-flaked fish sauce, and the other was a creamy peanut sauce. The contrasting flavors and textures were the perfect way to start the meal.
While we were waiting on the next dish, we were treated to an amazing drink, caf sua da, consisting of strong French-roasted coffee mixed with sweetened condensed milk and poured over ice. Just once you should pass up your usual coffee drink and try this coffee. It was a pure delight.
Next, a very nice version of kung pao chicken and shrimp was delivered. It was a solid balance of flavor and spice with plump, perfectly cooked shrimp, fork-tender chicken and vegetables served alongside brown rice.
Another plate arrived of lemongrass chicken. This dish consisted of sliced stir-fried chicken and lemongrass over vermicelli noodles with bean sprouts, green onions, shredded lettuce and crumbled peanuts. Accompanied by fish sauce with red pepper flakes, this dish was light, flavorful and slightly spicy.
Next was the reason for our visit ... the pho. The true treasure in this dish is the sublime broth. As Xiao explained, the base of the broth is beef bones, onions, roasted ginger, star anise, cinnamon sticks, cloves and salt and pepper, covered with water and simmered for more than 5 hours to achieve the proper signature flavor.
While there are 12 different offerings of pho, we chose to limit ourselves to two versions — the special combination noodle soup (pho dac biet), which contained the glorious broth, rice noodles, thinly sliced eye of round beef and beef meatballs, and the more adventurous pho tai gan, containing the same delicious broth and rice noodles but with rare beef and beef tendon.
When these large steaming bowls arrived at our table, we were immediately hit with the aroma of the cinnamon and clove. Pho itself is not spicy. However, a tray of accoutrements including fish sauce, sambal oelek (spicy chili paste), hoisin sauce, lime wedges, cilantro, bean sprouts and jalapeno allows you to make it as spicy or flavorful as you wish.
We used them all and it was the perfect marriage of sour, sweet, spicy and savory to create depth of flavor. The beef and meatballs in the first dish balanced the feel of the noodles. The tendons in the next dish were admittedly a new culinary experience for both of us. They were not chewy, as we expected, but were soft and had a simple beef flavor.
When you reach the bottom of this ample bowl, it leaves you with the curious feeling of being satiated but wanting more.
By offering both Vietnamese and traditional Chinese dishes, Pho Saigon offers something for everyone. When you are ready to go beyond your chicken-fried rice comfort zone, let Xiao and his family treat you to a delicious Vietnamese home-cooked meal of pho.
So to answer Todd's question, "So why do you guys want to do this?"… It's quite simple, for the love of food and friendship ... and the occasional free meal.