YSU softball team splits with Detroit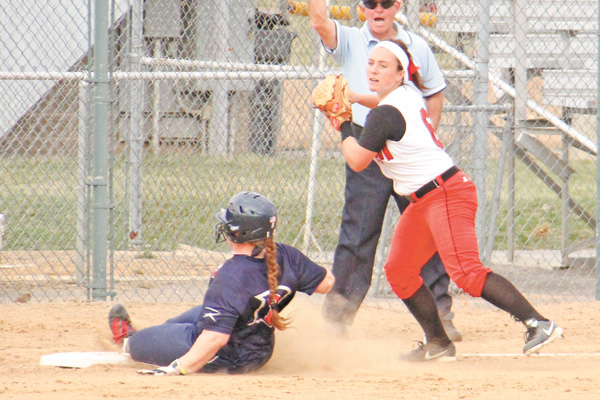 ---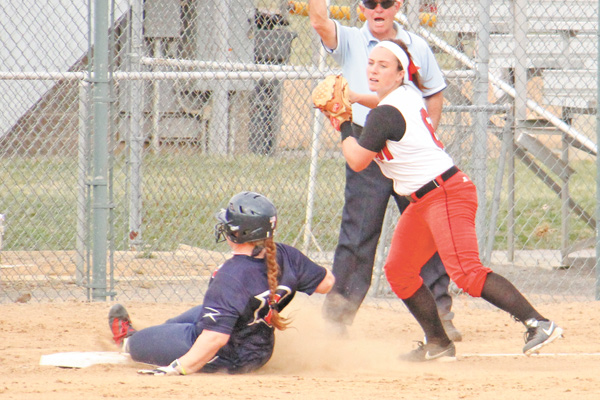 Photo
YSU's Samantha Snodgrass (6) looks to throw to first base after tagging out Sarah Cupp (12) at third during the first game of a doubleheader on Tuesday at McCune Park in Canfield. The Penguins won the first game, 5-0. Detroit took the second, 4-2.
By Joe Catullo Jr.
CANFIELD
Waiting and practicing at the Watson and Tressel Training Site since January, the Youngstown State softball team got outside once in a while to play road games.
The Penguins played at fields in Florida, Georgia, Pennsylvania and Dayton while their home games kept getting cancelled and postponed. In turn, the Penguins developed what Sarah Ingalls described as cabin fever.
But the precipitation finally held up for a day, the sun peeked through the overcast sky and YSU opened its home season with a doubleheader split against Detroit.
"I think it helped just because we've been on the road and it's not our place," Ingalls said. "Taking it to our place, it feels … the adrenaline [took over] I think."
The Penguins (7-14, 2-3 Horizon League) used that adrenaline in a 5-0 victory in the first game. Casey Crozier kept the Titans (4-27, 1-3) off stride throughout, allowing three hits and a walk with four strikeouts. Crozier said great defense and catcher Vicky Rumph's pitch calling made her shutout possible.
"She's been keeping us in ballgames all year long," YSU coach Brian Campbell said. "She just did a great job and held them off. [She gave] us everything she has to keep us in there and moving forward from there."
Ingalls collected three hits in as many at bats and two RBIs. Ingalls said she spent extra hitting sessions with Sarah Gabel and Samantha Troxell to fine tune her mechanics.
"The past couple of games I've been thinking in my head left field," she said. "I was trying to think right field, left field, up the middle line drives [today]. Sarah Gabel told me to just wait on it. She just helped me relax."
Ingalls had an opportunity to be the hero in the second game. With two runners on and trailing by two runs in the bottom of the sixth inning, she hit a deep drive to center field that reached the warning track in the 4-2 defeat.
"You got to keep running and hopefully it goes over, but too bad it didn't," Ingalls said. "You never know if there might be another one and that was the moment for it to happen."
The Penguins collected seven hits in the game but stranded six. Campbell said not hitting with runners on base was the difference.
"I don't think we made the adjustment hitting wise," he said. "We had opportunities to score. You have to make adjustments with the pitchers."
YSU also committed three errors in the field. Hana Somogyi started, lasted 4 1/3 innings, and allowed two runs (one earned) on four hits. Kayla Haslett relieved Somogyi and allowed another two runs on two hits.
"If we eliminate some of the errors we made in the field, I thought they threw very well," Crozier said. "They threw well enough for us to win."
YSU and Detroit will conclude the three-game series at 11 a.m. today at McCune Park. The time was moved up because of rain predicted later in the day.
"Tomorrow we're just hoping to leave today behind and maybe drop some bunts tomorrow," Crozier said.