Niles McKinley High begins classes in new building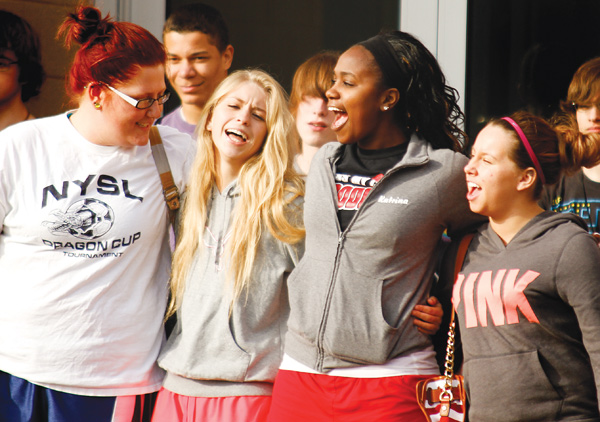 ---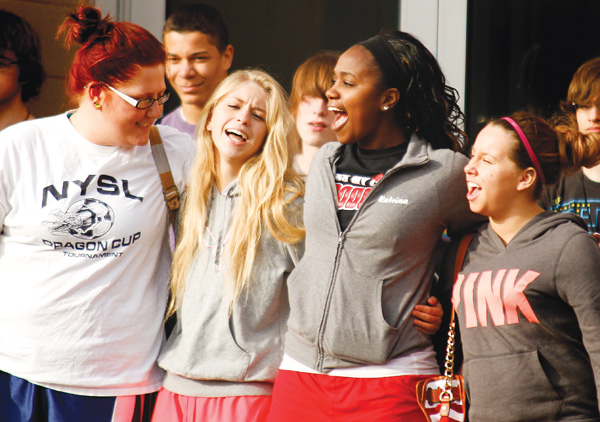 Photo
From left, Niles McKinley High School seniors Emily Estes, Danelle Cochran, Katrina Harris and Christina Vanormam sing the Niles fight song during ceremonies marking the opening of the new high school and the first official day of classes in the new building. The $27 million structure opened for classes Tuesday.
By Jordan Cohen
NILES
"It's really nice, and I love it," said Angelisa Beltran, a 17-year-old senior, as she and nearly 675 of her fellow students began their first day of classes in the new Niles McKinley High School.
"We're the first graduating class from here and the last from the old building, so it's historic for us," said her fellow choir member and senior Courtney Floyd.
The $27 million building officially opened Tuesday with a flag-raising cere-mony in what will be a front courtyard when grass is planted. Members of American Legion William McKinley Post 106 and the Junior ROTC raised the U.S. and Ohio flags under bright sunshine.
"When you go home today, thank your parents, because they did this for you," said Robert Marino Sr., a post vice president and former school-board member.
The 123,000-square-foot facility contains 27 academic classrooms and six labs, according to Mark Lucas, the building principal. "Every teacher now has their own classroom."
That was not the case in the old high school where some teachers had to move their materials on a cart from classroom to classroom because of a shortage of space.
"We no longer have to run from room to room each period with those carts, and that's great," said Jessica Gadd, who teaches Italian.
The building contains 250 "virtual" computers that are controlled through a single server. "You have to stay up-to-date with technology," Lucas said.
Lucas said the administration provided printed plans for the students to make their orientation less difficult, but several acknowledged being confused.
"I don't know where my class is next period," said Tiffany Boyer, a freshman, "but it's so beautiful here and feels like a college campus."
Several students said they appreciated all the space. "Everything was incredibly small in the old high school," said Tiffany, while Courtney was grateful that the choir will have a room to itself.
"It has much better acoustics, and we don't have to share it with the band," she said.
Security is a primary consideration. The new complex has more than 100 cameras inside and outside the building. Each classroom is equipped with an alert button that can alert the entire building in the event of trouble.
The high school is one of three buildings financed by a $56 million bond issue, $16 million of which was the district's share. Two elementary schools are under construction and expected to be completed next year. The old high school, built in the 1950s, will be demolished.