Yankees crush Indians, 14-1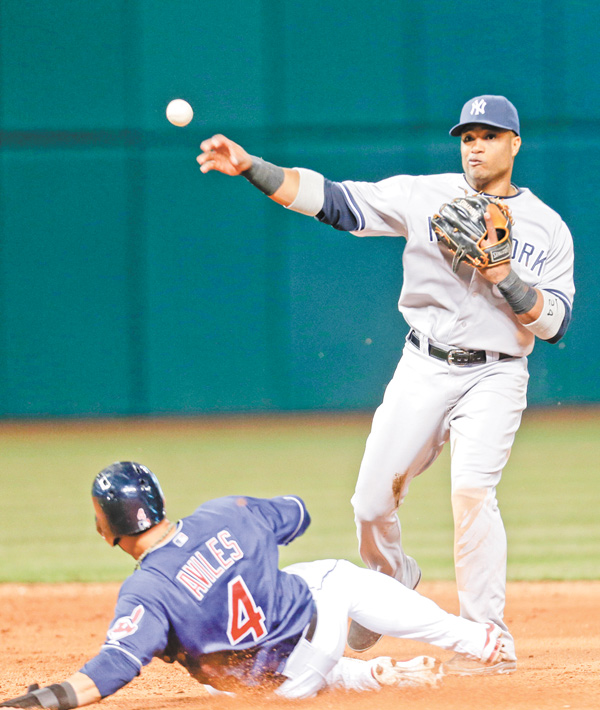 ---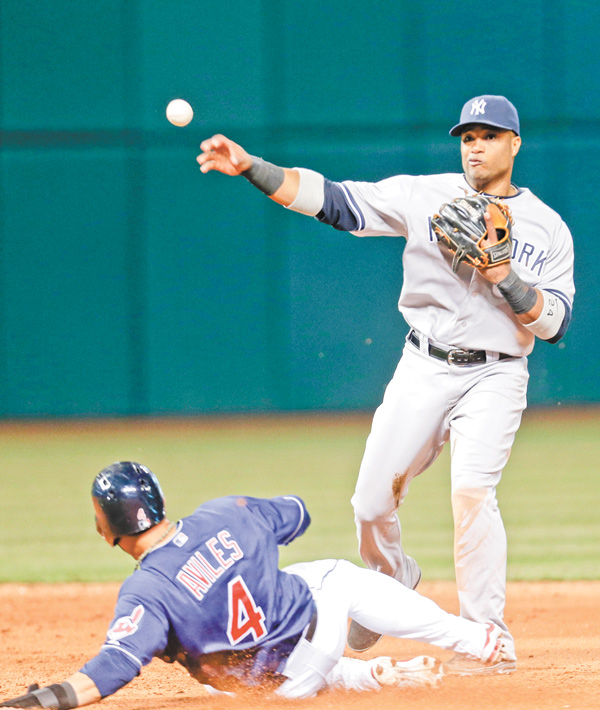 Photo
New York Yankees' Robinson Cano, right, throws to first base for the final out of the game after getting Cleveland Indians' Mike Aviles out at second base in the ninth inning Tuesday in Cleveland.
Associated Press
CLEVELAND
Robinson Cano hit one of New York's five homers and drove in five runs, Andy Pettitte pitched seven solid innings and the Yankees romped to a 14-1 win Tuesday night over the Cleveland Indians, who had starter Carlos Carrasco ejected from his first appearance since 2011.
The 40-year-old Pettitte (2-0) allowed one run and five hits in his second strong start.
Cano hit a two-run double in the second off Carrasco (0-1) and connected for his third homer in two days in the fourth.
Following Cano's two-run shot, Carrasco, who just served a five-game suspension for throwing at a hitter in 2011, drilled Kevin Youkilis in the shoulder with a pitch and got tossed.
Youkilis and Brennan Boesch hit two-run homers and Ichiro Suzuki and Lyle Overbay had solo shots for the Yankees.
With power hitters Alex Rodriguez, Curtis Granderson and Mark Teixeira on the disabled list, New York wasn't expected to hit many homers — at least not until those guys get back. But after hitting eight in their first six games, the Bronx Bombers have doubled their total since coming to Cleveland.
Cano, who had four hits, arrived for the four-game series batting .130 and without an extra-base hit. In the past two games, he's 7 for 10 with three homers, three doubles and seven RBIs.
Brett Gardner went 4 for 5 with two RBIs and scored three runs. New York had 18 hits.
The seemingly ageless Pettitte carried a shutout into the sixth, when Asdrubal Cabrera hit a leadoff homer. Other than that, the left-hander was in complete control of the Indians, who have been outscored 25-7 in losing their first two home games after a 3-3 start on the road.
Pettitte, the majors' winningest active pitcher, allowed five hits and walked three to earn victory No. 247.
Carrasco was making his first start in two seasons. He made it a memorable one, and possibly his last one for a while.
The right-hander hadn't pitched in the majors since Aug. 3, 2011. He was placed on the disabled list following that outing in Boston, underwent Tommy John surgery the next month and missed last season while recovering. Carrasco recently served his penalty for throwing at Kansas City's Billy Butler two seasons ago.
Before the game, Indians manager Terry Francona was excited about seeing Carrasco.
"The kid has gone through a lot to get back here," Francona said.