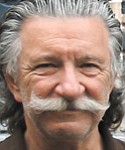 Donofrio's body found a year ago
Published: 4/10/13 @ 12:01
Staff report
YOUNGSTOWN
The body of James Donofrio, owner of the former Avalon Gardens bar and restaurant on Belmont Avenue, was positively identified Tuesday by dental records, the West Virginia State Medical Examiner's Office said.
His body was recovered March 25, 2012, near Ohio Route 7, about a quarter mile south of Clarington on the Ohio side of the Ohio River, according to a Youngstown police news release. Clarington is in Monroe County, about an hour southwest of Steubenville.
Donofrio was reported missing Sept. 26, 2011, by his wife, Rosanne. The report originally was filed with police in Boardman, where the couple had a home.
Ronald Donofrio, James' brother, said the family still was trying to learn details.
"We were just told an hour and a half ago [by Youngstown police] that my brother was found dead in West Virginia," Ronald Donofrio said Tuesday afternoon. "We know nothing. We don't know when we can get Jim. We're still waiting for someone to notify us and let us know."
Ronald Donofrio expressed anger at people who have posted on Internet sites that his brother was lounging on a beach somewhere in the tropics.
"Tell them he's deceased," he said.
Youngstown police found James Donofrio's Land Rover abandoned near the Market Street bridge in Youngstown, but an extensive search by police, firefighters, divers and a helicopter crew failed to locate Donofrio along the Mahoning River near that vehicle in the first few days after he went missing.
Youngstown Police Chief Rod Foley said "it's possible" that Donofrio's body floated downriver from Youngstown to Clarington in the Mahoning, Beaver and Ohio rivers, despite numerous obstructions, including dams, logjams and debris accumulations.
With the Mahoning and Shenango rivers joining just south of New Castle, Pa., to form the Beaver River, and the Beaver River flowing into the Ohio River at Beaver, Pa., the total distance would be about 145 river miles.
After Donofrio went missing, Youngstown-area authorities searched the Mahoning River as far downstream as Lowellville and beyond, Foley said.
Foley said West Virginia Medical Examiner's staff told him they believe "the body was in the water for at least six months." However, Foley said he would leave it to the medical examiner's office to explain that finding.
The West Virginia Medical Examiner's Office has not issued an official cause of death, and its spokeswoman could not be reached for comment.
Foley said medical examiner's personnel told him the cause and manner of death are undetermined. They told Youngstown police there were "no obvious signs of foul play."
Atty. James Tadla, who represents the family, said that after the first couple of days after James Donofrio's disappearance, his family believed he was dead.
"This is information that we were expecting," he said.
The family was trying to declare Donofrio dead through probate court, Tadla said.
Family members also believe someone killed him. Suicide or an accident doesn't make sense, the attorney said.
"Nothing else made sense other than a homicide," Tadla said.
Foley said police were told there were not any obvious wounds.
"There was obviously some bruising" from the body being dragged along the shoreline and river bottom, he said.
West Virginia has jurisdiction on both sides of the river, so that state's medical examiner's office handled this case, the chief said.
"We certainly would like to get a cause of death. Hopefully, there will be enough remains so that we can get some type of final answer," Foley said.
"Our investigators [detectives] will be dealing with them [West Virginia authorities] over the next several days to bring this case to a close," he added.
Tadla said that it's been an obviously difficult year and a half for the family.
"I would not say today is what you would call good news," Tadla said. "But to the extent that it allows the family to start the healing process, it will allow the beginning of the end of a nightmare."
Don't Miss a Story
Sign up for our newsletter to receive daily news directly in your inbox.