Howland edges Canfield in wild AAC baseball game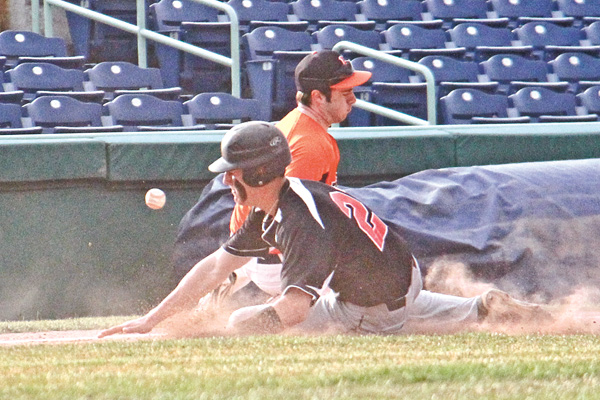 ---

Photo
Canfield's Jimmy Leone (21) knocks the ball loose after he collides with Howland's Vinny Ruberto at third base during Monday's game at Eastwood Field in Niles. The Tigers edged the Cardinals, 9-8.
By Doug Chapin
Niles
It was a typical early April high school baseball game Monday evening at Eastwood Field ... until the seventh inning.
Howland and Canfield combined for 13 walks, two hit batters, 11 errors, 20 hits and 17 runs through the first six innings. Needless to say, there were no 1-2-3 half-innings along the way.
Then Tiger senior John-Mark Weisman took the mound and two called strikeouts and a routine groundout later, he had preserved Howland's come-from-behind 9-8 victory.
"He doesn't (have trouble throwing strikes)," Howland coach Sean Price said about Weisman. "The thing with our pitchers is we tell them to throw first-pitch strikes. Once you get the first one over now you can throw your pitch, you control the tempo.
"John's got different arm angles, he attacks the plate, he's got a nice sharp breaking ball, a good changeup. He does a good job, he just throws strikes."
Howland (5-0) had just regained the lead with a three-run sixth after losing an early 4-0 advantage. Kyle Watson's two-run single tied the game and pinch hitter Ray Hill drove home the go-ahead run with a sacrifice fly.
"We've been behind the last three games and we've come back. These guys, they haven't quit at all," Price said. "I haven't had to say a word. The seniors step up, they get in there, they get them riled up and they go to work. None of the coaches have had to get anyone in a corner at all. They just handle it themselves."
Canfield (1-4) also got an excellent relief outing from junior Dan Brown, who was called on in the first inning. He entered with four runs already on the board, the bases loaded and just one out. He wriggled out of that jam then allowed just two unearned runs over the next three innings as Canfield got back into the game.
"He came in we're down 4-0 and he kept us right in there," Canfield coach Matt Koenig said. "We were able to chip away and get back into the game. He held us in there, what did he pitch, three and two-thirds? He did a very good job."
The score was 6-6 through three innings, then Canfield scored single runs in the fourth and fifth, both on wild pitches. But the Cardinals left a combined seven runners on bases in innings four through six.
"We continue to get better. A lot of these guys are first-year varsity players," Koenig said. "They are seeing better pitching than they've seen probably all their lives. Every at-bat for them is like that. The games we played in Myrtle Beach and this tight one here, hopefully that's going to prepare us down the road and turn these young hitters into veterans by the middle of the season."
The inexperienced Cardinals won one out of four games last week at Myrtle Beach, S.C.
"We just had a game similar to this down in Myrtle Beach, our last game. We had a lead late and gave it up," Koenig said. "We have to throw more strikes late. We walk too many guys and when you do that you give the other team an advantage and your defense is back on its heels.
"Tonight it looks like it carried over into the seventh inning where we have two strikeouts looking and a groundout. It's a tough time to get a little bit nervous."
Tom Ciccolelli had three hits for Canfield and Edmond Pilolli added a double and a single.
Howland was paced by Joey Shver with a double and two singles. Ryan Fleming had two hits and two runs batted in.