Bad weather is coming to the Valley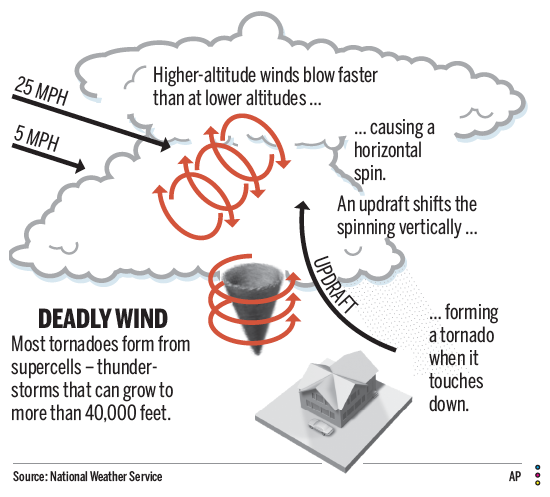 ---
YOUNGSTOWN
The Mahoning Valley could see major thunderstorms, quarter-sized hail, strong winds and possibly isolated tornadoes between late today and Thursday.
The most likely day for the potentially severe weather is Wednesday, said Will Kubina, a meteorologist with the National Weather Service in Cleveland.
Scattered thunderstorms are expected tonight, he said. A higher temperature Wednesday means "severe weather" — including hail, strong winds and possibly tornadoes — is more likely, Kubina said.
Also, there could be large temperature differences Wednesday and even Thursday in the area, he said.
It could be "80 degrees in Salem and 60 for a high in Warren," Kubina said. "It's not just in the Mahoning Valley. It could be across the state. It could be 50 degrees in Toledo and 85 or 90 degrees in the south. It will be like that all week."
There is "the risk of violent thunderstorms, some capable of producing a tornado" coming out of the Rockies and moving eastward today and Wednesday, according to AccuWeather, a national weather organization.
By the time the storm reaches the Mississippi River, the risk of strong tornadoes may be significantly lower, but there is still the potential for damaging wind gusts, hail and flash flooding, according to Alex Sosnowski, AccuWeather's senior meteorologist.
The temperature in the Mahoning Valley is supposed to reach the low 70s today and drop into the low 50s tonight, according to the National Weather Service. The expected high for Wednesday is the upper 70s with a low in the upper 50s, and a high in the upper 60s Thursday with a low around 40, according to the NWS forecast.
Friday is expected to be unseasonably cool with a high only in the upper 40s and dropping into the lower 30s at night, according to the forecast.