'Gotta Move' combines music, storytelling and movements to stimulate brain development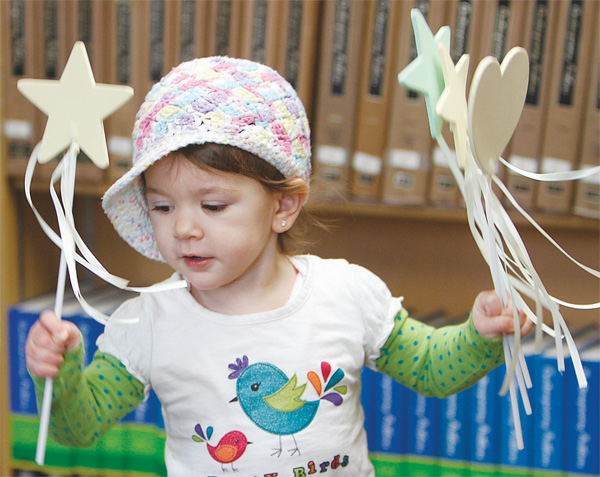 ---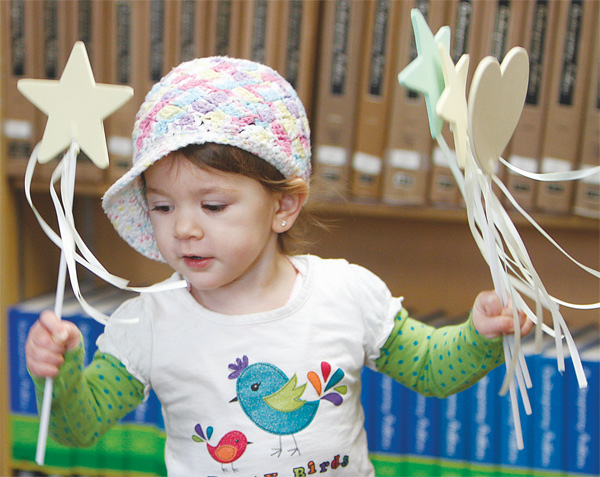 Photo
Katherine DePinto, 2, uses ribbons on stars and hearts as she dances to a song during the Gotta Move storytime at the Canfield library. Children age 2-5 joined for a variety of musical and movement activities that are designed to stimulate brain development and motivate language learning.
By Sean Barron
CANFIELD
Like many children her age, 6-year-old Emily Gorup enjoys reading, shopping and, when the occasion arises, dancing.
Such an occasion did present itself for the youngster shortly after she helped herself to a colorful ribbon at a library event.
Emily, a kindergarten student at C.H. Campbell Elementary School in Canfield, was one of several children who took part in the recent "Gotta Move" event at the Canfield branch of the Public Library of Youngstown and Mahoning County, 43 W. Main St.
The one-hour monthly program, which is geared mainly toward youngsters age 2 to 5, combines music, storytelling and movements to stimulate brain development and increase an appreciation for literacy, noted Kelly Marafiote, a children's librarian who conducted the morning gathering.
Emily also takes part in her school's Read-a-Thon fundraiser and has about 98 books, said her mother, Wendy Gorup.
"We come to a lot of children's programs at all of the branches. We patronize the library frequently," said Gorup, a certified occupational therapy assistant at Valley Renaissance, a health care facility in Boardman.
The children and adults enjoyed the "Gotta Move" program, which got under way with Marafiote's playing a song called "Stop and Go," which encouraged the youngsters to dance, spin and suddenly stop on cue with the tune's rhythms and lyrics.
She also played songs titled "Animal Parade," which got the youngsters to simulate movements of horses, birds, cats and fish; "Body Bop," a tune about moving and shaking the proper parts of the body to music; and "Shake, Rattle and Rock," in which they played small hand instruments to the words.
Along similar lines, Marafiote read a series of books such as Audrey Wood's "The Napping House," a silly fantasy about an increasing number of people and animals that pile on top of one another in a bed to sleep before a flea on the top bites one of the animals, causing a domino effect in which all of the participants quickly wake up.
Other stories were "I Love to Eat Bugs," a pop-out book by John Strejan describing what frogs and other animals love to eat, as well as "The Seals on the Bus," a singsong parody by Lenny Hort of the popular tune "The Wheels on the Bus."
In addition, the children walked and ran in a circle waving and shaking colorful star- and heart-shaped ribbons in sync with another song's lyrics.
Another benefit of "Gotta Move" is that it helps youngsters who often have difficulty sitting still during more traditional story-time activities, Marafiote noted.
"It's [also] good for gross-motor skills," she explained. "Kids warm up after a couple of songs and dance and move around."
The event is at 10 a.m. the first Thursday of each month at the Canfield Library. It's also held on other days at the Austintown and Sebring libraries.