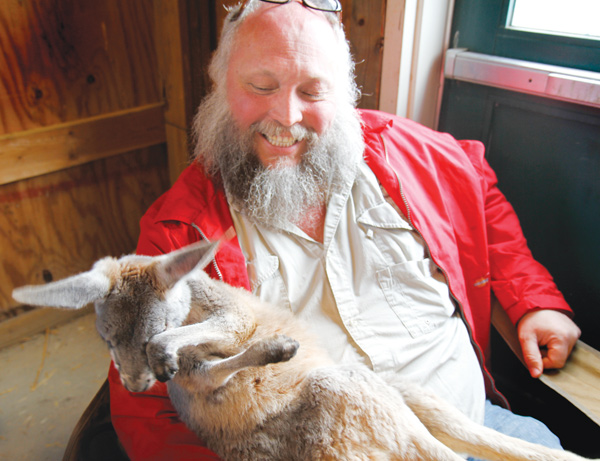 ---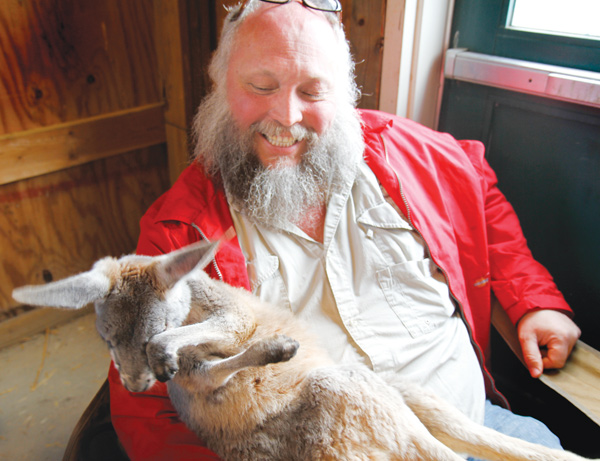 Photo
Dwayne Felger holds a baby kangaroo at the Mill Creek MetroParks Farm baby shower celebrating the arrival of the new animals.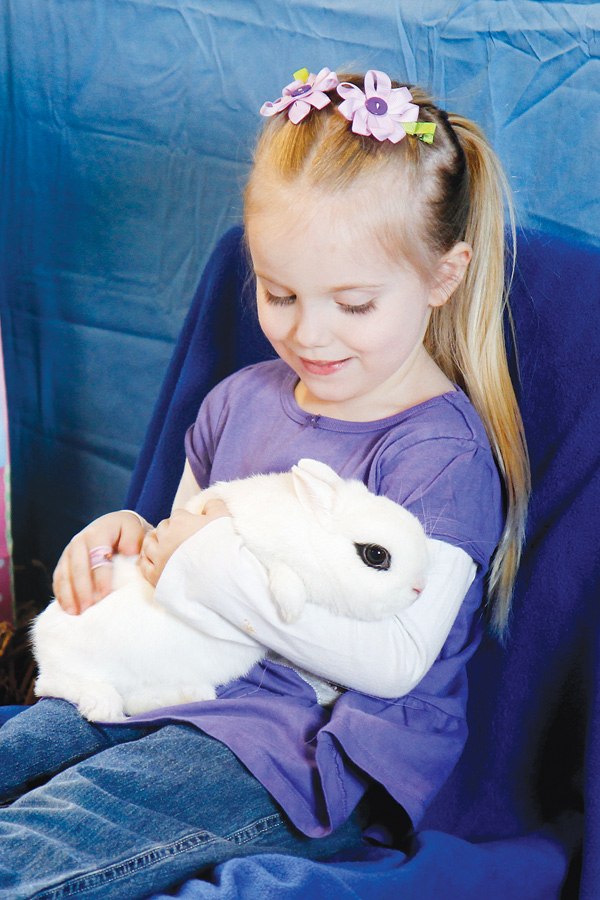 Photo
Makayla Martuccio, 4, of Mineral Ridge holds a baby bunny at Sunday's event.
By ELISE McKEOWN SKOLNICK
CANFIELD
Spring means the arrival of baby animals, and Mill Creek MetroParks Farm has plenty.
Community members had a chance to see calves, ducklings, piglets and more Sunday at the farm's annual baby shower.
"We come every year," said Jessica McKay. "The kids love the animals. They look forward to it every year."
There's not much of an opportunity to see farm animals in the village of McDonald, where the family lives, so the event is nice for them, said Ken McKay.
"I think it's nice that they do it," he said. "It gives kids an opportunity that they usually wouldn't have."
The couple's three children — Hannah, 5; Natalie, 3; and Olivia, 2 — enjoyed seeing the animals at the farm.
"We've seen a goat and a sheep and a piggy," said Hannah.
Her favorite was a rabbit she was allowed to hold. It was soft, she said. She had her picture taken while she held it.
Participants had a chance to pet or hold a variety of animals, including rabbits, goats, sheep, horses and even a kangaroo. They could sit on a tractor and pretend to drive, climb on stacks of hay bales, and munch on traditional baby shower food — cake and punch.
Learning opportunities also were available. Large interactive boards encouraged children to think about such things as how much milk a dairy cow produces each day and the everyday items animals provide for people.
"I think it is wonderful from an educational standpoint," said Natalia DePoy of Boardman.
Many children don't regularly have an opportunity to see where and how animals live, she said, especially in an increasingly technological world.
DePoy first attended the baby shower two years ago.
Her daughters, Natalie, 6, and Anna, 3, posed on a tractor while DePoy snapped a picture.
"I have an animal lover," DePoy said. "Since [Natalie] was a little baby girl; she loves them. That's what she does all day at home, play with the animals."
"I have hundreds" of animals at home, Natalie said. Hers are stuffed toy animals.
At the farm, she said, her favorite animal is a cow.
"I like its big, black dots on it," she said.
She enjoyed holding a rabbit as well.
"It was fuzzy," she said.
It's a great event, her mother said.
"We're lucky that we have something like this because in big cities they don't have anything or they would have to travel far," DePoy said.