YSU baseball takes series from UWM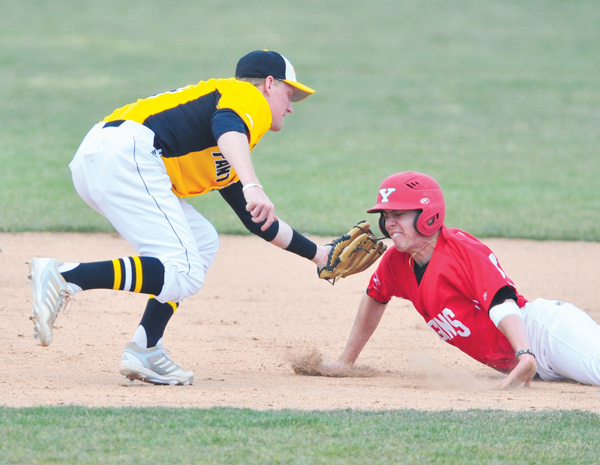 ---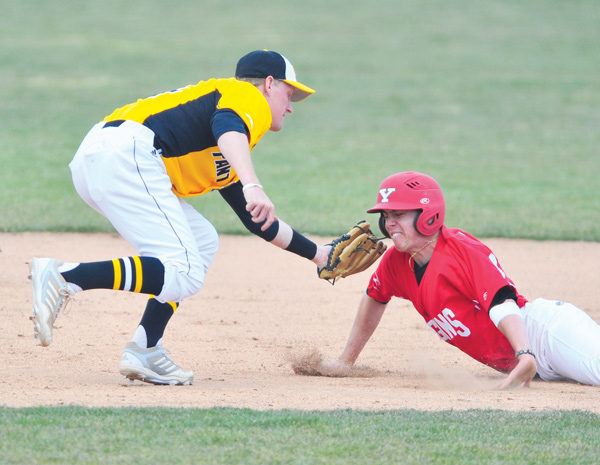 Photo
Youngstown State's Phil Lipari is tagged out by Milwaukee's Alex Erdmann after being caught in a rundown during Sunday's game at Eastwood Field.
By Steve Wilaj
NILES
Safe to say, Youngstown State shortstop Phil Lipari doesn't want to see the yellow and black uniforms of Milwaukee leave town.
In helping the Penguins take two of three from the Panthers — including a 6-2 victory Sunday afternoon at Eastwood Field — the junior was 8 of 10 at the plate with seven RBIs.
He racked-up five RBIs in the rubber match, going 3 for 3 with two doubles and a walk.
"I just felt really good today," Lipari said. "And over the whole weekend I felt really good. I was seeing pitches and people were backing me up. It felt really good."
After watching his team take the series from Milwaukee (12-14, 8-4 HL), which is in first place in the Horizon League, YSU coach Steve Gillispie was feeling good too.
"Give our kids an awful lot of credit. After the [loss] on Friday night they could have dropped their heads and folded up shop," he said. "But we came back and got after it. They won the series. It wasn't given to them."
Milwaukee struck first in the top of the second inning when catcher Mitch Ghelfi hit a solo homer to right field. But YSU (9-21, 5-4 HL) answered immediately, as Lipari brought home Josh White and Nick Dinello with a two-run double in the bottom half.
Lipari was back at it again in the sixth inning, lining a shot to the right-field wall to give the Penguins a 3-2 advantage. They made it 4-2 on a Jack Graham RBI groundout later in the inning.
The dagger came an inning later, delivered by none other than Lipari. After an intentional walk loaded the bases, he smacked a bases-clearing double to give YSU a convincing 6-2 lead. It would have been 7-2 had Dinello not missed home plate.
In all, YSU collected 11 hits.
"[Lipari] is swinging the bat really well and you can see he's playing with confidence," Gillispie said. "But I think a lot of guys have really bought into our offensive approach. We're just playing more baseball and it helps them to be confident at the plate."
Freshman Lance Horner started for YSU, lasting 4 2/3 innings. He allowed two runs on three hits before exiting with a blister on his finger. From that point, the Penguins' bullpen was lights out.
Ryan Krokos (1-0), Alex Frey, Josh North and Nic Manupelli combined for 4 1/3 scoreless innings. Working two innings, Manupelli earned his fifth save of the season.
"Allowing those guys to pitch with a lead makes it that much easier," Gillispie said.
Mike Schneider (0-1) went five innings for the Panthers, allowing four runs (two earned) on eight hits. Jonathan Capasso and Ghelfi lead UWM with two hits apiece.
YSU has won its last two conference series. Prior to this weekend, it took two of three at Wright State and is in second in the league standings.
"We've always felt competitive and now we're seeing that next step forward," Lipari said. "It's a tight-knit group and we're just pushing forward."