---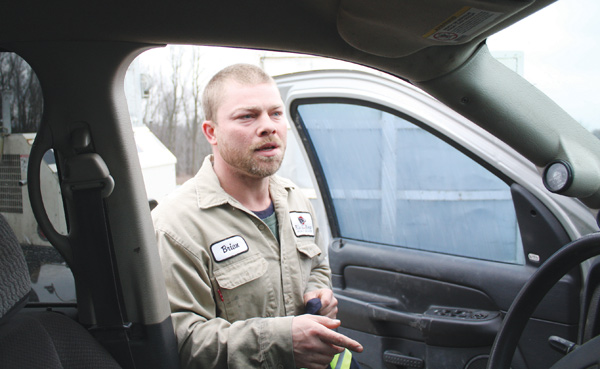 Photo
Brian Rose, above, is a roustabout for a natural-gas drilling company, whose Dodge 4x4 truck sometimes doubles as a dressing room. Rose's responsibilities vary from picking up trash to repairing the liners that contain chemicals. He is responsible for general-labor duties on a rig.
By CHRISTOPHER KOCHERA
TheNewsOutlet.org
LISBON
On a brisk March morning in a field off of state Route 172 in Lisbon, the air is filled with the rumble of machinery and the smell of diesel fuel.
Combine that with the gray skies, the bare trees and the drilling equipment, and the scene it creates isn't exactly picturesque.
On this day, workers plan to move equipment from a natural-gas injection well. They pay no attention to the weather as they swarm the well. They perform their duties in perfect synchronicity.
Just beyond the frenzy is 35-year-old Brian Rose, who just parked his Dodge 4x4 with drilling-company graphics displayed on its sides.
Today, the truck doubles as a dressing room. He pulls on overalls with yellow visibility tape contrasting against the black, grease–stained fabric. On one side there is a patch with his name. On the other is the name of Black Bear Oil Corp.
He will wear this outfit for the next 13 hours.
"I get here at 10, and I go home at 10. Sometimes I stay a little extra," he said, raising his voice above the roar of generators. "It might be 13 or 14 hours, an average day is 13 and a half."
Rose is a roustabout, the low guy on the natural-gas drilling totem pole responsible for general operations on a rig.
His responsibilities range from picking up trash to repairing containment — liners that prevent the release of dangerous chemicals into the environment.
"It's hard work. It drains you," he said. "You go so long and so long, you're just drained. Then I'm back doing it again."
"It's like I live here."
This doesn't surprise Tracee Joltes, assistant director for workforce outreach at Eastern Gateway Community College in Youngstown.
"These guys work in all weather. They're the ones who climb around under the rigs, hook up hoses, clean tanks and do whatever it is that needs to be done when it needs to be done."
A native of Hamilton, a small city about 30 miles north of Cincinnati, Rose previously built limousines.
But the money wasn't there. With a family to support – his girlfriend Jessica Campbell and two sons, ages 8 months and 2 years – bills began to pile up.
"Work got scarce, and I followed the work," he said.
A friend told Rose about a job opportunity in the natural-gas drilling industry.
"I knew a guy who was working for a company, and they needed people," he said. "I heard the money was good. Down where I'm from, working this hard you're only going to make 10 bucks an hour."
Following the work meant moving his family to a mobile home in Salineville.
"The move was better," said Campbell, 24. "It actually benefitted the family, because we were closer to his work, and he was able to spend time with the family."
Rose works two weeks straight with a week off. He earns enough to let Jessica stay home with the kids.
"I didn't want her to work because back home I was working full time and she was working full time, and neither one of us were around," he said. "One of us has to be there to take care of [the kids] and make sure they're raised the way we want them to be raised."
"It's great going from full-time work and full-time mommy to stay- at-home mommy," said Campbell. "I don't miss anything."
Roustabout salaries range from $21,860 to $51,550 yearly, according to the Bureau of Labor Statistics.
"You hear about high salaries, and they range from $10 … to $18 an hour to start," said Joltes. "I know of a couple folks making $20, $26, $28 dollars an hour."
Those paychecks do not come without risks, however.
"You got all kinds of dangers in there," Rose said. "You can slip and fall all the time; it's slick. You got machinery in there that's running around all the time. I'm sure these people are watching, but you gotta be watching, too. You could walk into a blind spot behind a loader, slip, he not know you're there, put it in reverse and go."
That danger became more real Feb. 25, when Abdal L. Audeh, 28, of Dover was killed and Alex Cox, 21, of Cadiz was injured in Carroll County on a rig owned by R.E. Gas Development, a subsidiary of Rex Energy. Sheriff Dale Williams said the two had forgotten to hook up a safety line on the drilling equipment they were working on and a piece of the equipment swung around killing Audeh. Cox was able to move out of the way.
"When I heard about that out here, I thought about it all day," he said. "It's scary knowing it happens."
Faced daily with the reality of injury or death, Rose keeps his guard up.
"I'm not afraid, but I know it's there. It's in your head constantly. Don't be in a rush; that's when things happen."
"I call him at least 20 times a day," Campbell said. "Anything can happen, and I'm not going to be able to raise the kids unless he's here. He just has to be careful."
Rose isn't the only one concerned with safety. Drilling companies say they stress it as well.
"There's a safety meeting every day before your shift and there's probably another one during your shift," said Rose. "They stress safety like crazy here. If you're caught not using safety measures we talk about every day, there are consequences."
Those consequences can include being suspended without pay.
Rose does not have long-term plans as a roustabout, citing his age, the work schedule and the job itself.
"Most of the guys who do this are younger. It's a little rougher on me," he said. "Some of these guys out here are pretty old and you can tell they've been doing it awhile. They're broke down. I don't want to be like that."
"I'd like for him to be home," said Campbell. "It's long hours, but he's doing what he has to to take care of his family."
Despite the lifestyle and risks, Rose said being a roustabout is a good job.
"The company takes care of me; they're fair" he said. "They give me insurance and everything. I can take care of my family, so I like my job."
TheNewsOutlet.org is a collaborative effort among the Youngstown State University journalism program, Kent State University, The University of Akron and professional media outlets including, WYSU-FM Radio and The Vindicator (Youngstown), The Beacon Journal and Rubber City Radio (Akron).