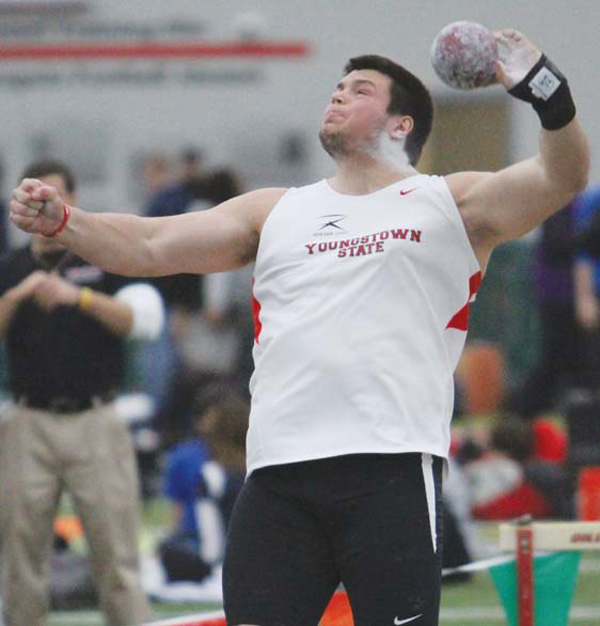 ---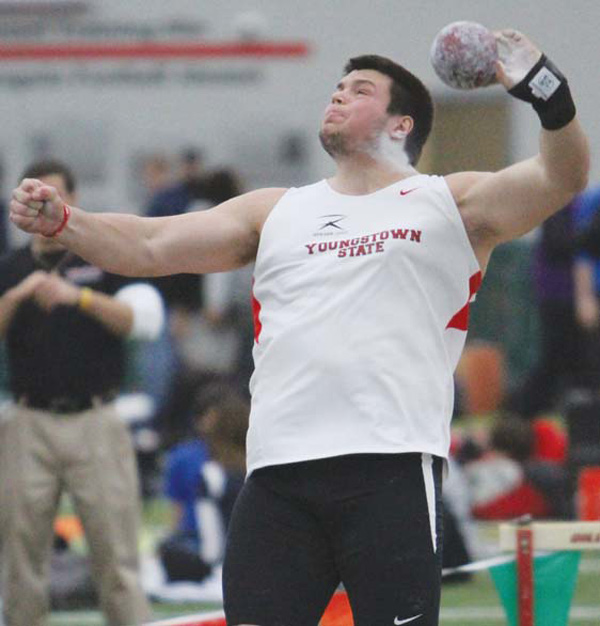 Photo
Youngstown State senior Bobby Grace placed eighth in the shot put at last month's USA indoor nationals in Albuquerque, N.M.
By Joe Scalzo
YOUNGSTOWN
Youngstown State senior Bobby Grace is a naturally talented thrower, but that's not why he earned a spot in the USA indoor national championships last month.
He's a hard worker, too. Lives in the weight room. Loves to throw. Always wants to get better.
But that's not why, either. Lots of throwers are that way.
What makes Grace unique is not his ability to do everything right. It's his ability to correct what's wrong.
"It sounds trivial, but his ability to fix something is huge," said his throwing coach, Brent Shelby. "Most people think, 'You're a college athlete, you should be able to do that.' But it's really a skill, that you either have or you don't.
"It's body awareness. And if you have that body awareness, mixed with the intelligence, you can make huge strides. And a lot of kids don't have that, surprisingly."
Grace has it. But body control is one thing. Nerve control is another. Grace showed both at the indoor national meet in Albuquerque, N.M., finishing eighth in a 13-person field that featured 10 professionals, including last year's world champion, Ryan Whiting.
Grace's best throw at the meet, 61-21/4, was also the second-best throw of his career.
"It was just good to compete at that level and that big of a stage," said Grace, who competed unattached because he is redshirting this season at YSU. "I was just happy I did well there.
"Overall, it was a cool experience to be a part of."
While Grace excels in every throwing event — he won the shot, discus and hammer at last year's Horizon League outdoor championships and has two top-five finishes in the indoor weight throw — there's no question which is his favorite.
"With my body type, I should be a discus or hammer person but I've always loved the shot the best," he said. "Even in high school, there was just something about it. It just clicks with me."
Grace is a few feet off the school record in the shot, discus and hammer and is hoping to repeat in all three events at next year's Horizon League outdoor meet, but Shelby said Grace's biggest contribution to the program comes from his presence, not his point totals.
"Having a guy like Bobby around — and the same thing goes for one of his teammates, [senior] John Seaver — means a great deal when you're talking about recruiting and talking about exposure," Shelby said. "It also gives the younger guys coming up more of an opportunity to be around him, training-wise. They can see how it's done."
In addition to Shelby's influence, Grace credits trainers Willie Danzer and Brian Sklenar for building his strength.
"I've been meaning to do that in several interviews," Grace said, laughing. "They've been very instrumental in the whole process. They're very good at what they do."
So is Grace. And Shelby believes he'll only get better.
"The sky's the limit at this point," Shelby said. "We've got a whole 'nother year for it."