Zwinglers mark 66th anniversary on April 6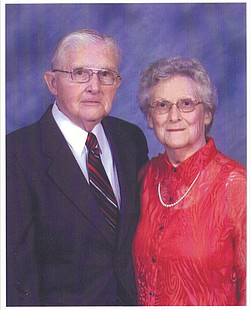 Photo
Mr. and Mrs. Lamar Zwingler
CANFIELD
Mr. and Mrs. LaMar Zwingler of Canfield celebrated their 66th anniversary on April 6.
The former Mary May and Mr. Zwingler were married April 6, 1947, at Pilgrim Collegiate Church in Youngstown.
The Zwinglers have three children: Roger (Heather) Zwingler of Apex, N.C.; Donna (Gene) Hughes of Powell, Ohio; and Wade (Janice) Zwingler of Olmstead Township, Ohio. Seven granddaughters and eight great-grandchildren complete the family.
The couple are members of Canfield United Methodist Church and volunteer for Operation Blessing.
Mr. Zwingler, a U.S. Army veteran, served in Hawaii during World War II. He worked at the Tieche Brothers Bakery in Canfield for 19 years before working at Packard Electric, where he retired in 1987.
Mrs. Zwingler is a homemaker. She was formerly employed by the Youngstown Labor Board during World War II, and later by Ohio Machinery and Firestone Tire, Riley-Emery Tire Company and Town and Country Tire.