Bridges mark 60th anniversary with Florida trip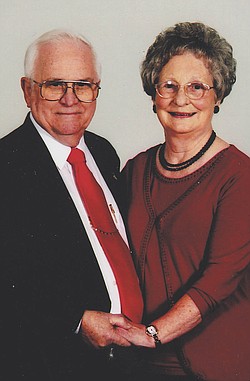 Photo
Rev. Dr. and Mrs. Jack Bridges
BOARDMAN
The Rev. Dr. Jack and Claudine Bridges of Boardman were honored by their family with an eight-day trip to Florida for their 60th anniversary.
The couple were married on March 20, 1953, in Tampa, Fla., and honeymooned in Clearwater, Fla.
Their children are Gail Pastoria of Boardman; Bill Bridges of Knoxville, Tenn.; Tony Bridges of Akron; John Bridges of Brooklyn Heights, Ohio; and Cynthia Dunham of Baltimore, Md. The Bridges have eight grandchildren and four great-grandchildren.
The couple are members of the Struthers Faith Fellowship Church of God.
Rev. Dr. Bridges received a doctor of ministry degree from Ashland Theological Seminary in Ashland, Ohio. He retired as a Church of God pastor in 1995. He served as a Civil Air Patrol chaplain for eight years and is currently a chaplain with the Boardman Police Department.
Mrs. Bridges earned a bachelor's degree in nursing from the University of Akron. She retired from Cuyahoga General Hospital in 1998.