US is halfway to Obama's goal of doubling exports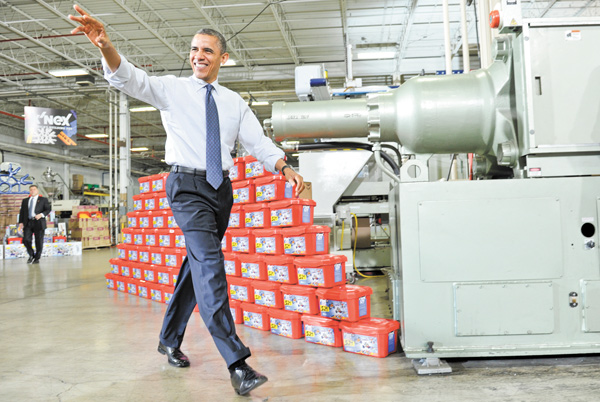 ---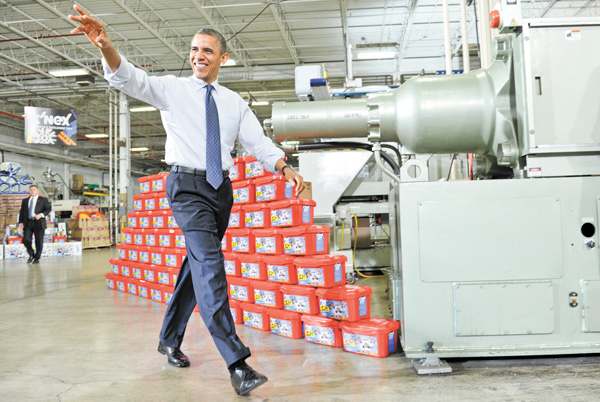 Photo
President Barack Obama waves as he arrives before speaking at the Rodon Group, which manufactures more than 95 percent of the parts for K'NEX Brands toys, in Hatfield, Pa.
Associated Press
WASHINGTON
Suddenly, outsourcing is on the way out and insourcing on the way in as the U.S. trudges unevenly toward President Barack Obama's goal of doubling American exports around the world by the start of 2015.
So far, export levels are about halfway to his mark.
Obama set the five-year target in his January 2010 State of the Union address and recently has hastened his drumbeat, telling his export advisory council last month the nation was "well on our way" to his goal. "The question now becomes: How do we sustain this momentum?"
Though economists and industry leaders generally expect the ambitious target to be missed, impressive gains already booked in American manufacturing and exporting suggest such a miss may not be by that much.
Why the optimism toward a manufacturing comeback? Here are five reasons:
Cheap U.S. natural gas and other increased energy production are helping to power U.S. factories more efficiently, with gas especially providing inexpensive raw materials for U.S. manufacturers of plastics, tires, certain pharmaceuticals and other petrochemical products.
Higher wages in China and other foreign export markets are making outsourcing less profitable to U.S. firms.
Congressional approval in 2011 of trade agreements with South Korea, Colombia and Panama and other agreements being negotiated now with Asia and Europe are promising to open more foreign markets to U.S. products.
High U.S. unemployment is relieving pressure on factory owners to increase wages, helping to make U.S. labor costs more globally competitive.
Major technology advances have steadily boosted factory efficiency and worker productivity.
Of course, some big bumps lie in the road. Europe is mired in recession, the American economy continues to expand at a snail's pace and the jobless rate sits at a stubbornly high 7.7 percent almost four years after the 2007-09 recession ended.