St. Charles School hosts safety night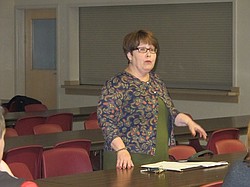 Photo
St. Charles School principal Mary Welsh spoke to parents about the staff safety session Jan. 18 at the safety night Feb. 20.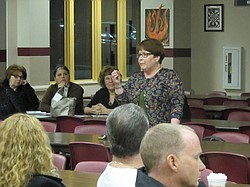 Photo
St. Charles School principal Mary Welsh discussed the latest safety features that the school has put in for student safety at the parent safety night Feb. 20.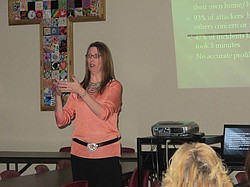 Photo
The president of the St. Charles Home and School Association, Jennifer Gray, began the safety night presentation for parents and staff Feb. 20.
By NATALIE SCOTT
The Home and School Association, with the help of president Jennifer Gray, hosted a safety night for parents at St. Charles School Feb. 20.
The safety night included presentations from speakers Sgt. Mike Hughes (Boardman Police Department), Brian Barber (Boardman Fire Department), and special guest Tracy Jordan from the Geauga County Sheriff's Office, who was one of the first responders at the Chardon High School shooting last year.
"We wanted to provide this safety night to show that we are updating our safety procedures and taking steps to make sure that our students are safe," said St. Charles principal Mary Welsh. "This was a great opportunity to communicate with parents and ease parent concerns about safety. We want to work together with the parents wherever we can."
The presentation included discussions of many new safety procedures, including the new door-locking system put into effect immediately, teacher checklists for safety, and safety plans for each room in the building. The aim of these plans is that teachers and students can be prepared for any type of school emergency, not just a possible shooter.