Poland places second at JA competition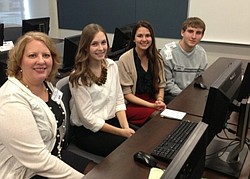 Photo
Neighbors | Submitted.Students from Poland Seminary High School came in second place in Junior Achievement of Mahoning Valley's JA Titan Competition on March 14. The team includes, from left, team mentor Kimberly Stillwagon Gilbert from Associated School Employee Credit Union, Ashlee Weaver, Myranda D'Apolito and Gary Haddle. .
Junior Achievement of Mahoning Valley's fourth annual JA Titan Business Challenge was held on March 14 at Youngstown State University's Williamson College of Business Administration. This day-long competition placed high school juniors and seniors in the CEO seat to help increase their understanding of business while competing for market share and in the end, college scholarships. Poland Seminary High School consisting of Myranda D'Apolito, Gary Haddle and Ashlee Weaver placed second, with each student winning a $200 scholarship.
A total of 20 teams of students from nine area high schools: Austintown Fitch, Bloomfield, Boardman, Campbell Memorial, Champion, Hubbard, Poland Seminary, Southington Chalker and Youngstown Christian for the competition. Each team, consisting of two to three students, became the CEO of a Holo-Generator company with total control of company operations. The teams worked with a local business mentor for two of the three rounds.
The mentors provided insight into personal career and business development as well as guidance for decision making processes applicable to the Titan game strategy. Student teams used the interactive online business simulation JA Titan that offers a unique way for young people to learn what it takes to compete in the marketplace and to run a successful business.
JA Titan is designed to complement high school economics, math and social studies curriculum. JA students determined the success or failure of their business based on how well they managed key issues such as setting prices, filling production requests, establishing marketing, investing in research and development, and capital equipment. Students analyzed market conditions over a series of quarters applying information under time pressure to interpret data, critically analyze, and make decisions for their "virtual company" competing head to head in the Holo-Generator industry.
The event was sponsored by Youngstown State University Williamson College of Business Administration, Falcon Foundry Company, Home Savings and Loan Foundation and Yurchyk and Davis CPA's, Inc.
Team sponsors included Belmont Confections; Cafaro Family Foundation; Jet Stream International; Gasser Chair Company, Inc.; Tecnocap LLC; and Yurchyk & Davis CPA's, Inc. Special thanks our other event supporters: Covelli Enterprises, A Franchisee of Panera Breads, LLC.; Chick-Fil-A (Boardman); Coca Cola; Herr's Chips; Home Depot (Boardman) and Target (Niles).