Local students earn music awards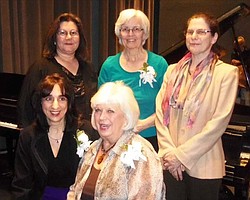 Photo
Neighbors | Submitted.Ohio Federation of Music Clubs' festival committee includes , from left, (front) Cindy Cleeland, Gold Cup chair and Audrey Rhinehart, judge chair; (back) Patricia Paridon, district 1-B festival chair; Rita Amicucci, program chair and Gretchen Hrusovsky, monitor chair.  Not pictured: Stephanie Miner, festival co-chair.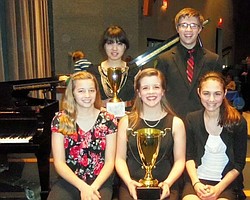 Photo
Neighbors | Submitted.Presidential and grand cup winners, from left, (front) Anna Michelle Laino, Hayley Ward and Alyssa Titi; (back) Sarah Shon and Shawn Rast received awards after the honor's recital on March 16 at Bliss Hall.
The Ohio Federation of Music Clubs presented Gold Cup Awards following its annual Honors Recital at Youngstown State University Bliss Hall on Saturday, March 16.
A total of 29 local students who have received three consecutive years of Superior Ratings in the OFMC Judging Event presented the performance, which consisted of piano solos, piano concertos and violin solos performed by local musicians who ranged in age from second through 12th grade.
Hayley Ward received a presidential gold cup.
Winners of the grand cup included Alyssa Titi, Sarah Shon, Anna Michelle Laino, Shawn Rast and Olivia DeMartino.
This year's judging events included 337 students performing in 568 events.
For more information, visit www.ofmc.org and www.nfmc-music.org or call Pat at 330-207-4062.