Families send off 838th soldiers to Afghanistan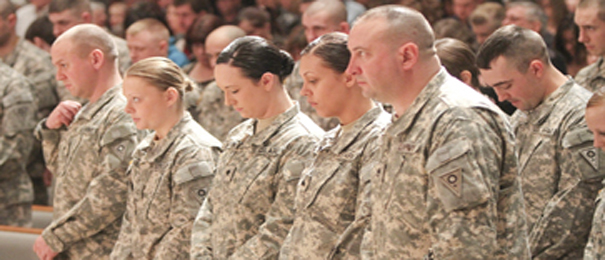 ---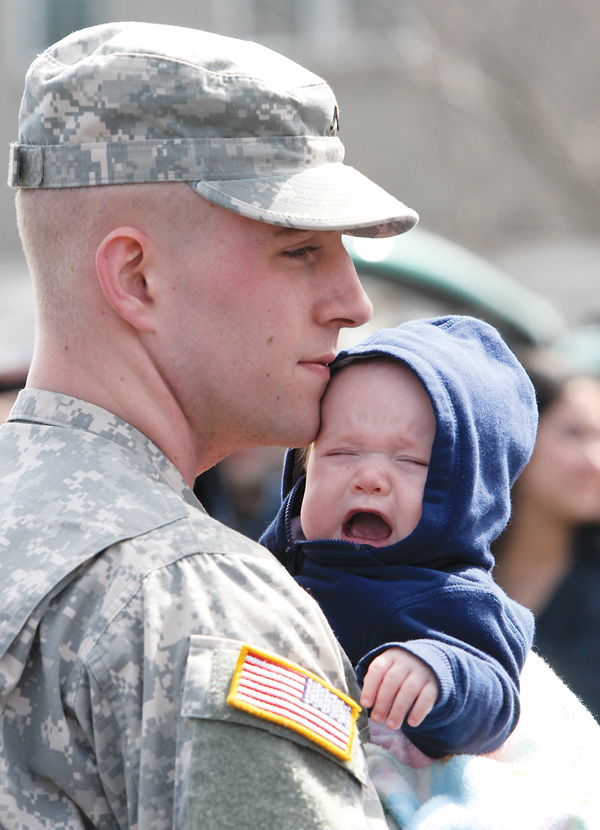 Photo
Pvt. Brandon Brown, with the 838th Military Police Co., shares a moment with his son Brandon Tyler Brown, 3 months. Brown was part of a "call to duty" ceremony Thursday at Old North Church in Canfield.
By SUSAN TEBBEN
stebben@vindy.com
CANFIELD
Jessica Senior rocked back and forth with 2-week-old daughter Siena as they watched the ceremony Thursday morning at Old North Church.
Siena's father, E5 Sgt. Phillip Senior, sat at the front of the church listening to advice from military and public officials that Jessica had heard before.
It was different for Jessica, along with another daughter, Paige, 2, mother Shari and friend Mary Kay Riccardi, to hear the National Guard call to duty from the other side.
"We went together last time," Jessica said, trying not to let the tears show. "I know what it's like to be there" on the way to training.
Phillip and Jessica met in the Army, and she did a tour in Iraq with Riccardi.
This time, though, Jessica will stay at home with the family, while Phillip serves for a year as part of the 838th Military Police Co. in Afghanistan in support of Operation Enduring Freedom.
At a "call to duty" ceremony at the church, the company was sent off to training at Camp Shelby, Miss., after 16 months of training at home. Many of the 130 soldiers raised their hands indicating this would be their second, third and — in some cases — fourth tour of duty.
Spc. Brandon Smith is excited to start his first tour after volunteering for deployment. In the military for four years, Smith said ceremonies and deployments are constant reminders of the support soldiers have.
"My family came out from New York, and I loved seeing all these people come out," Smith said. "You lose touch with people, and this kind of thing just reminds me of the support we have."
A former member of the 838th, Richard Baldwin, now a patrol officer for the Youngstown Police Department, watched the ceremony — as he does whenever the 838th goes out.
"Everybody's thinking about their deployments and their families," Baldwin said. "They have to think about making sure they get home and to always be careful, always work with a buddy."
Baldwin was an operations sergeant and first sergeant in his four years as a Marine and spent 27 years in the National Guard. He was deployed in Desert Storm and knows well what the soldiers learn as a part of war.
"You mature a lot and accept a lot of responsibility to fulfill your obligations," Baldwin said, also saying he wouldn't give back any of the time he spent in the military. "If I could go back right now, I would."
The 838th most recently was deployed in 2002 to Afghanistan and again in 2007 as emergency responders at military posts.
"These soldiers are more well-equipped than the National Guard has ever been," said Deborah Ashenhurst, adjutant general of Joint Force Headquarters in Ohio, who commands the Ohio National Guard.
Ashenhurst, along with U.S. Rep. Tim Ryan of Niles, D-13th; and representatives from the offices of U.S. Sen. Sherrod Brown and Rob Portman, spoke about the importance of the families who will wait a year to see their loved ones.
"Everyone is watching you — you're the role model," Ryan said.
Commander of the unit, Capt. Jason Dancy, called the junior enlisted personnel the "greatest generation since World War II," and said the training they'd already had made the commanders expect the best from them.
"Today we officially separate from the National Guard and start our federal active duty," Dancy said. "We must improve on our weaknesses and maintain our strengths."
The families, like the Seniors, just want the experience to end with another ceremony welcoming the soldiers home.
"I just can't wait to have him back home," Jessica said.